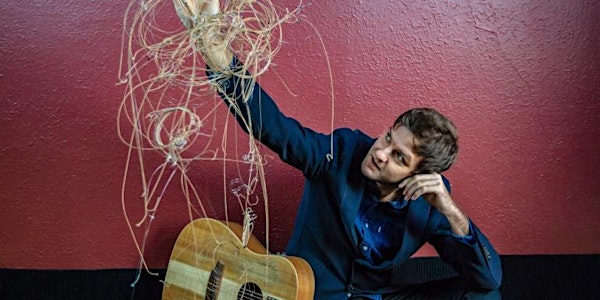 Daniel Champagne
All sales final. Proof of COVID-19 vaccination required for entry.
Location
Swallow Hill Music - Tuft Theatre
71 East Yale Ave
Denver, CO 80210
Swallow Hill is proud to welcome Daniel Champagne to Tuft Theater this summer! All sales final. Please see our latest COVID-19 policy.
About this event
Daniel Champagne
One reviewer recently wrote – 'Daniel Champagne exudes a natural ease on stage, as he sings poignant lyrics and beautifully crafted melodies that invariably whisk the heart up with grand romanticism. Coupled with an exhilarating guitar talent that transcends mere acoustic playing to replicate a whole band, Champagne is just magical' (themusic.com.au)
The story goes that the young Australian singer, songwriter and one-of-a-kind guitar virtuoso first picked up his instrument of choice as a five-year-old following in the footsteps of a musical father. He began writing songs at 12, training classically throughout his teens and performing solo wherever he could, honing his craft and developing what would become the dynamite live show that he is renowned for today. At 18 he left school, turned professional and hit the road.
The following decade saw him release 5 studio albums, tour relentlessly around the globe with upwards of 300 shows per year, play some of the biggest festivals under the sun and share stages with the likes of Tommy Emmanuel, INXS, John Butler, Lucinda Williams, Ani DiFranco, Judy Collins and Rodrigo y Gabriela.
In early 2020 as the COVID pandemic ground all touring to a halt, Daniel returned to Australia writing music and further honing his craft and will return to international audiences with a swag of new songs and a complete new live show. For fans of guitar, songs or just artistic expression at it's finest this show is a must see!