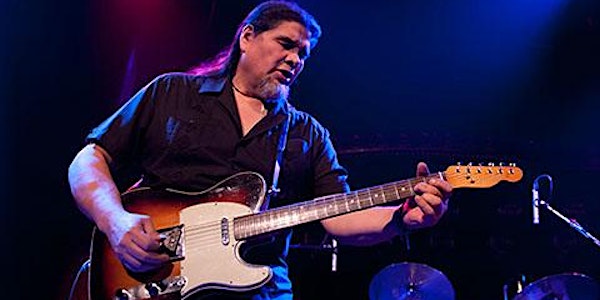 Daniel Castro
This band wows with soulful, polished, and intense performances, shifting from one scintillating groove to the next.
By Almost Famous Wine Company
Date and time
Starts on Friday, June 23 · 5:30pm PDT
Location
Almost Famous Wine Lounge 2271 S. Vasco Suite D Livermore, CA 94550
Refund Policy
Contact the organizer to request a refund.
Eventbrite's fee is nonrefundable.
About this event
21+ Doors at 4 pm. Opener begins at 5:30 pm. Main act starts at 7:30 pm.
Daniel Castro and his band return after their glorious opening-night and packed house performances of 2022. Led by blues guitarist and singer-songwriter Daniel Castro, this band wows with soulful, polished, and intense performances, shifting from one scintillating groove to the next. Strong arrangements, including three-part harmonies leave audiences in awe. Describing Daniel Castro as a blues artist only begins to scratch the surface: he is a highly accomplished guitarist and singer/songwriter with a strong musical point of view, grounded in the very best blues traditions.
See him and his band live at Almost Famous Wine Lounge, an award-winning, new tasting room and venue located on Vasco Road in the heart of Livermore's wine, spirits and brewery district. Almost Famous Wine makes fifteen wines in diverse styles, and earned 44 top industry awards since our debut last year.
There is a two drink minimum for each guest.
Reserved table seating is available for purchase at this show. Ticket sales are final. While we do not offer refunds, we are happy to apply the full credit of your purchase to another show (with advance notice of more than 24 hours before your purchased show begins.)
Table seats cannot be claimed first come, first served until 8:15pm. Upgraded seating must otherwise be purchased. Outside food is welcome, but please bus your table of any food items when you are finished. No outside beverages, including non-alcoholic beverages. With a menu of 15 wines in diverse styles, complimentary water, and sophisticated non-alcoholic options, there's something for everyone.
About Daniel Castro
Describing Daniel Castro as a blues artist doesn't begin to tell the whole story. A highly accomplished guitarist and singer/songwriter with a strong musical point of view grounded in the very best blues traditions is more like it. Combine those talents with original blues-based material and you begin to understand Daniel's strengths as an artist. Well-known for being a dynamic performer who "leaves it all on the stage" night after night, Daniel brings crowds to their feet with his blistering solos, soulful singing, and tight arrangements. Daniel has always played with seasoned musicians, but with his newest incarnation, the Daniel Castro Band raises the bar and is truly a force to be reckoned with.
Daniel grew up in the L.A. area and was heavily influenced by the blues greats Albert KIng, B.B. King and Albert Collins. As a kid, Daniel would hang outside clubs like the Golden Bear in Huntington Beach to hear these blues legends perform and wait for a glimpse of them through the curtains. After cutting his teeth in South Central L.A. blues clubs with "Mighty Mouth" Delmar Evans, who worked with the Johnny Otis Show, Castro backed other great artists from Otis' band, including Pee Wee Crayton and Little Ester Phillips. He also recorded and toured with many other artists including legendary Small Faces singer-bassist Ronnie Lane. Moving to the San Francisco Bay Area in 1995, Daniel formed the Daniel Castro Band and quickly became a hot draw in the burgeoning local blues scene. In 1999, Daniel recorded his first release, No Surrender, followed in 2003 with Live at The Saloon, a double CD recorded at San Francisco's oldest bar and mecca for the blues faithful. Both CDs highlight the talents of Daniel's playing, songwriting, and arranging and feature stellar performances by some of the Bay Area's best sidemen.
In 2011, Daniel began looking to form a new band. He had always been surrounded by great players but wanted to focus on his original material, which required working with musicians that shared his passion, would commit to strenuous rehearsals, and had the natural chemistry needed to help him realize the music's potential.
Daniel began getting together with bassist Johnny Yu, whom he had played with in the past and who had recorded several cuts on his "No Surrender" CD. They quickly became a team, working out arrangements to many of Daniel's new original tunes and forming the nucleus of the new band. Daniel and Johnny began performing as a trio, using a platoon of drummers as they searched for the elusive third member of the band. In early 2012, Johnny reconnected with drummer David Perper, who he had worked with in a variety of settings over many years. David got together with Daniel and Johnny at their rehearsal space and it soon became obvious to all that they collectively had something special. With Johnny and David, Daniel has an intuitive and explosive rhythm section, able to anticipate each others moves and support Daniel's music as it deserves.
A Daniel Castro Band performance is soulful, polished, and intense as the group shifts from one scintillating groove to the next. Daniel covers lead vocals and rhythm and lead guitar with amazing dexterity. Musical chemistry is obvious from the first note the band plays and it never lets up. The group's strong arrangements, including three-part harmonies, and its use of dynamics and feel, propel each song forward and leave audiences in awe of a trio that sounds so full. "We play big," says Perper. Others agree. "I can't believe how full the band sounds. I close my eyes and am sure you're a five or six piece band--unbelievable!" says Bernard Butcher, producer of the Blue Wing Blues Festival. Click video on right to view our behind the scenes EPK of the making of "Desperate Rain".
LEARN MORE
http://www.danielcastro.com/home.html
About the organizer
PLEASE NOTE - The show time listed for the event is typically DOORS, at 6pm. Shows typically begin at 6:30 pm with an opening act, unless different times are reflected above.
Ticket sales are final; no refunds.
Non-reserved seating is first come, first served, so please arrive early unless you don't mind standing. Outside food welcome, but only AFW wine can be consumed on premise. All shows are 21+ and there is a two drink minimum.