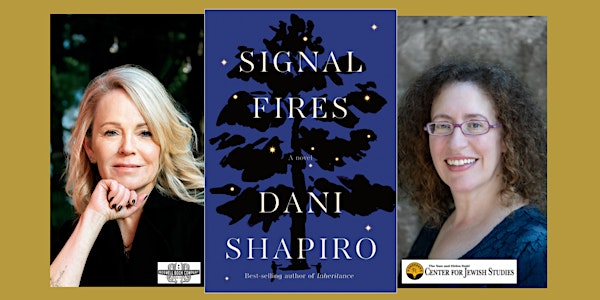 Dani Shapiro, author of SIGNAL FIRES - an in-person Boswell event
Dani Shapiro, author of SIGNAL FIRES - an in-person Boswell event
When and where
Location
Boswell Book Company 2559 North Downer Avenue Milwaukee, WI 53211
About this event
Boswell presents an evening with Dani Shapiro, author of Signal Fires. In conversation with Lauren Fox. Cosponsored by UWM Sam and Helen Stahl Center for Jewish Studies.
Please Note: At the author's request, masks are required to be worn by all event attendees. Presenters may be unmasked during the presentation. Thank you for your understanding.
Signal Fires opens on a summer night in 1985. Three teenagers have been drinking. One of them gets behind the wheel of a car, and, in an instant, everything on Division Street changes. Each of their lives, and that of Ben Wilf, a young doctor who arrives on the scene, is shattered. For the Wilf family, the circumstances of that fatal accident will become the deepest kind of secret, one so dangerous it can never be spoken. On Division Street, time has moved on. When the Shenkmans arrive, it is as if the accident never happened. But when Waldo, the Shenkmans' brilliant, lonely son, befriends Dr. Wilf, now retired and struggling with his wife's decline, past events come hurtling back in ways no one could ever have foreseen.
From Gary Shteyngart, author of Super Sad True Love Story: "I don't know of anyone who writes about family with the same generous understanding and gem-cut sentences as Dani Shapiro. Signal Fires confirms her as an artist of the highest order."
Dani Shapiro is a best-selling novelist and memoirist and host of the podcast Family Secrets (now in its sixth season). Her work has been featured in The New York Times, The New Yorker, and Time. She has taught at Columbia and New York University and is the co-founder of the Sirenland Writers Conference.
Click here to purchase your copy of Signal Fires. Signed copies and personalization available on pre-orders. Please note that signed copies will not be shipped until after the event.