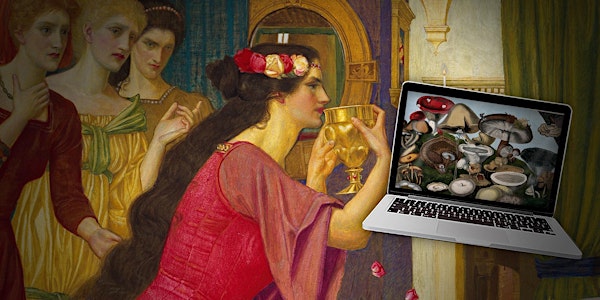 Dangerous Women? Beauty, Perfume, and Poison, with Nuri McBride (online)
Academic Nuri McBride explores the Dangerous Women trope in history and legend and its relation to cosmetics, perfume, sexuality, and power.
Refund Policy
Contact the organizer to request a refund.
Eventbrite's fee is nonrefundable.
About this event
Catherine de Medici, Lucrezia Borgia, Locasta, Agrippina, Madame de Brinvilliers, Catherine Monvoisin, Tofana.
These women of both legend and history have inflamed the imaginations of writers for centuries. They proved so enticing because they embodied the trope of the Dangerous Women. A character of immense skill, beguiling beauty, seduction, and dark machinations; a living embodiment of Circe or Medea. These characters are also deeply connected with the use of cosmetics, particularly perfume, as well as poison and murder. Often, the line blurred between the artful application of cosmetics and the artful application of a fatal draft.
There is an old saying that poison is a woman's weapon, but is that true? Did Agrippina kill the emperor with poisoned figs? Did Tofana, the perfumer turned wife-avenging poisoner, even exist? Are these the accounts of real Femme Fatales or the fever dreams of a patriarchal society?
In this class:
We will explore the Dangerous Women trope and how it applies to the histories of these women.
We will examine the anxiety society felt around cosmetics and perfume, female sexuality, female-dominated trades, and women in power.
We will discuss the validity of some of these cases.
Finally, we will examine why perfume has been compared to magic elixirs and dangerous poisons for so long.
---
IMPORTANT NOTES
This class will take place online, on Zoom. Please look out for an email from us about 24 hours before class starts, which will contain Zoom log-in information and the class handouts. We will share the video for this class with registered participants for 3 days after it takes place.
ABOUT NURI MCBRIDE
Nuri McBride is an academic, activist, writer, and perfumer focused primarily on the preservation of olfactive cultural heritage. Her main area of interest is in the importance of aromatics in life-cycle rituals, particularly surrounding death and dying. This interest grew out of Nuri's personal work in end of life care and witnessing the emotional power scent can hold for the bereaved. In 2015, she began the Death/Scent project to explore the use of aromatics in death practices around the world. Nuri is a long time advocate for greater death awareness education and an end to funeral poverty. She also incorporates scent in her guided death meditation classes as a profound way to connect the participants to the physical, intellectual, and emotional state of examining their mortality.
Links: Website / Twitter / Instagram / Facebook
---
This event is presented as part of our relaunched 'Scent and Society' series. Scent and Society is an ongoing exploration of the multiplicity of perfume histories across time, and across the world.
---
--
ATTENDANCE AND REFUND POLICY
This is an online class that will take place on Zoom. The Zoom link will be sent by email approximately 24 hours before the class. Lest this email end up in your spam folder, please be sure to add hello@artandolfaction.com to your address book.
+ Event times are listed in Pacific Time (PDT); please use a time converter for your local start time.
+ Please download and install Zoom before the class starts, to avoid last minute technical issues.
+ We will share the video for this session after class ends, viewable for 3 days.
+ Unfortunately, we cannot offer refunds or credit once you have signed up. Please do not sign up unless you are sure you can attend.
---
Image credits:
Sigismonda Drinking The Poison. Artist: Joseph Edward Southall. Image provided by Birmingham Museums Trust on Unsplash
Poisonous fungi: 24 species, including Agaricus, Hypophyllum and Amanita species. Coloured lithograph by A. Cornillon, c. 1827, after Prieur. Wellcome Collection. Public Domain Mark