Description
Danger!Awesome is an open-access laser cutting, laser engraving, and 3D printing workshop in the heart of Central Square and we would like to invite YOU to the Grand Opening Shindig celebrating the opening of our downstairs workshop space.
Come join over 100 of our friends in the greater Cambridge community for a night of equipment demonstrations, snacks, music and entertainment!
Due to popular demand (and fire-safety regulations) this has been split into a two day event, so please RSVP for one of the two nights when you will be available so that we can make sure everyone has a chance to get in!
Come join us and learn about all the exciting work we've been putting in over the past few years to make Cambridge an innovative hub of 3D manufacturing. We're looking forward to seeing you.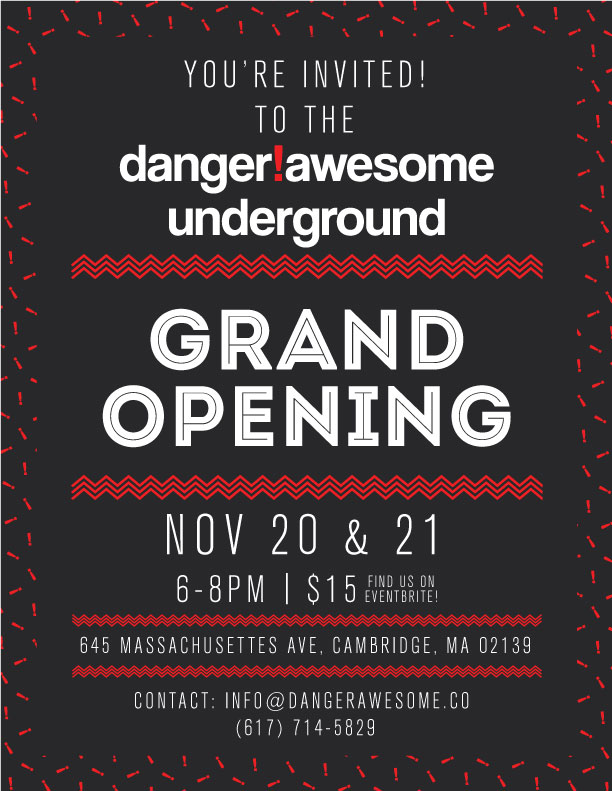 Organizer of danger!awesome Underground Grand Opening!
Located in Cambridge, Massachusetts danger!awesome is your friendly neighborhood go-to for all things concerning laser-cutting, 3D printing, CNC routing, vinyl cutting and more.
Since 2011, danger!awesome has strived to bring making to the masses by combining groundbreaking technology with educational opportunities, workshops, community oriented events, an open-access co-working space and a revamped retail storefront.