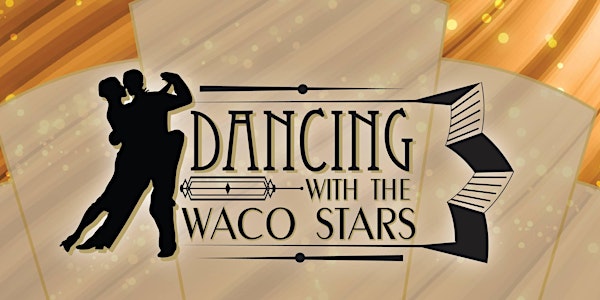 Dancing With the Waco Stars 2019
When and where
Location
Waco Hippodrome Theatre 724 Austin Avenue Waco, TX 76701
Refund Policy
Refunds up to 7 days before event
Description
We are pleased to announce Family Abuse Center's fifth annual Dancing with the Waco Stars!
Please come join us at the Waco Hippodrome for an exciting evening of dinner, drinks, and entertainment while supporting local Waco Stars competing for votes live from the audience, all benefitting Family Abuse Center.


This year's event is organized by co-chairs Loeen Irons and Colleen Henson to kick off Family Abuse Center's celebration of its 40th Anniversary since it was founded in 1980. To coincide with the anniversary, this year's theme is "Months of the Year," with each of the 12 couples dancing to a routine based on each calendar month.
The 2019 Waco Stars are:



v Wes Allison - President & CEO at Extraco Events Center/Heart of Texas Fair & Rodeo
with Pro Dancer Mandy Dudik
v Chris Goss, Personal Trainer and co-owner of Elysian Cryotherapy and Rush Cycle
with Pro Dancer Regina Nix
v K. Paul Holt, President & CEO at CentexAGC
with Pro Dancer Kay Waldrop
v Amanda Cunningham, Realtor at Coldwell Banker Apex
with Pro Dancer Jenny McCormick
v Amanda Frey, Licensed Counselor at Providence DePaul Center
with Pro Dancer Landon Lewis
v Trent Neumann, Owner of Captain Billy Whizzbangs
with Pro Dancer Jamie Suzuki
v Liz Painter, Nursing Program Instructor at McLennan Community College
with Pro Dancer Mark Stansell
v Jennifer Young, Certified Health Coach and Co-Owner of Young Direct Primary Care and Internal Medicine
with Pro Dancer Jeff Maisongale
v Brooke Hansen, Business Development Manager at Home Abstract & Title Company
with Pro Dancer Roman Novian
v Felicia Mulkey, Acrobatics & Tumbling Head Coach at Baylor University
with Pro Dancer Nate Sloan
v Bert Echterling, Realtor at Bentwood Realty
with Pro Dancer Meredith Sutton
v Zeb Hering, VP of Business Development at Brazos Masonry
with Pro Dancer Zoe Stinson
For more information on this year's Waco Stars, please visit the Dancing with the Waco Stars home page.


Sponsorship Packages Include:
5 VIP Tickets

Main Stage Digital Recognition

Emcee Recognition

Program & Calendar Recognition
Sponsor Inquiries: Please purchase 5 VIP tickets at one table and designate your Waco Star & Pro at Checkout. Logos must be emailed to Colleen Henson no later than September 1st.

Media Inquiries: Please contact Angie McBurnett, Director of Development, at Angie.McBurnett@familyabusecenter.org | 254-772-8999
Tickets available:
VIP Tickets

include seats at VIP tables closest to the stage with 3 drinks and VIP dinner. VIP tickets are seated at serpentine tables for 5 people, numbered 1-5 from left to right (looking from the stage to the audience.)

Orchestra Tickets

include seats on the floor level located behind the VIP area. Orchestra tickets include 2 drinks and VIP dinner. Seats are located in rows, not separated tables.

Balcony Tickets

include seats located in rows in the upper level balcony. Balcony tickets include 1 drink and 1 dinner.

After purchasing, tickets will be sent via email from Eventbrite to be printed or to be scanned on mobile device the night of the event. All tickets will be scanned before admission.
Voting Information:
***All ticket purchases will be counted as votes ($1 = 1 vote) if designated towards a Waco Star & Pro at checkout. Votes may be purchased without tickets here.***


General donations (i.e. not designated for a Waco Star & Pro) may be made to Family Abuse Center by clicking here.
Doors open at 6:00 pm
Dinner served promptly at 7:00 pm
Dance Competition starts at 7:30 pm
For more information, please contact:
Whitney Thomas
Associate Executive Director
Whitney.Thomas@familyabusecenter.org
(254) 772-8999