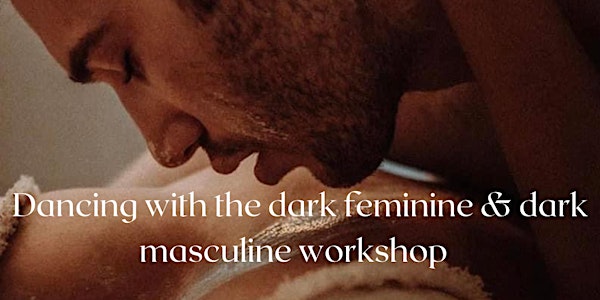 Dancing with the dark feminine & the dark masculine
Welcome sacred soul to dancing with the dark feminine & the dark masculine workshop. This is for all men and women.
Refund Policy
Contact the organiser to request a refund.
Eventbrite's fee is nonrefundable.
About this event
So what is the dark feminine & the dark masculine?
It is a part of who we are. It is the depths of our power, our passion & where so many of our gifts lie and untapped potential.
We have been so conditioned to believe our darkness is somehow less than holy and we need to be ashamed of it and not explore it, let alone love this part of ourselves.
Yet what happens when we don't is when it's dangerous.
When we don't explore our darkness, our shadow self (unhealed traumas and unmet needs) will express itself in very unhealthy ways.
We are not safe to eachother if we don't heal, reclaim and love our darkness.
Our darkness is fertile & full of so much divinity just waiting to be expressed through us.
You look at nature & the entire universe - everything is both equal dark & light.
The soil and above ground,
The depths of the ocean and the surface,
The mothers womb and once a baby is born,
The night sky and the stars & the morning sun…
We too are both dark and light, we are not separate.
🐆 In this 2.5 hour workshop -
We will delve into meditation & embodiment practices,
I will share all about the dark feminine & dark masculine perhaps in a way you have never heard before,
Discussion as a group,
Sharing from the group and a Q & A.
The purpose of this workshop is to understand your dark feminine & dark masculine, bring inner unity and acceptance to both parts of you,
Understand what the dark feminine and masculine is NOT,
Have tools for life,
And connect with other men and women in a safe container for healing + empowerment + love.
🐆 When is it?
Friday the 30th of September from 6.30pm - 9.00pm Lima, Peru time. Which is Saturday 1st of October 9.30am - 12.00pm Sydney Australia time.
🐆 Even if you cannot catch it live, you will have the replay. Replay will be sent out within 24 hours after the workshop has been finished. But I highly reccomend making it live.
🐆 How much is it? $77 AUD.
🐆 If you are a couple, you both need to purchase a ticket each.
🐆 Be open minded, ready to be seen and supported in this space. It is a safe space but it could bring up emotions for you, all is welcome.