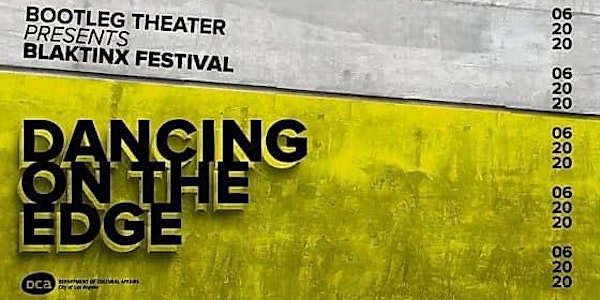 Dancing on the Edge
When and where
Location
https://www.eventbrite.com/x/dancing-on-the-edge-tickets-106805466024
Description
Dancing on the Edge
A curated video collage of dance pieces created by BlakTinx choreographers living in isolation during Covid19 and more recently honoring Black Lives Matter.

Saturday June 20th, 2020 at 6:00 pm (pacific time)
Viewing is FREE but please RSVP HERE https://www.eventbrite.com/e/bootleg-theater-presents-blaktinx-dance-festival-dancing-on-the-edge-tickets-106805466024
​
Featuring: Anthony Aceves, Bernard Brown, Joshua Estrada-Romero, Regina Ferguson, Kassy Francis, Michelle Funderburk, Primera Generación, Nancy Rivera Gomez, Vannia Ibargüen, Keilah Lomotey, Amber Morales, Rubi Morales, Andrea Ordaz, Yarrow Perea, Alan Perez, Dorcas Román, Eluza Santos, Shantel Ureña, Sadie Yarrington, Briseyda Zárate

with special encore performances by Bernard Brown, Brigette Dunn-Korpela, Stacey Strickland, Irishia Hubbard, Maura Townsend and Sofia Carreras.

​
​
The LA Department of Cultural Affairs invited Blaktinx Dance Festival with Bootleg Theater to create this program as part of their maTCH funding. We sent out a request to the Blaktinx choreographer alumni, and the results are breathtaking. Tune in and witness these powerful pieces as they share their personal spaces and feelings.
​