DANCING IS MY VOICE 2019 Zumbathon® Charity Event to Support Sexual Assault...
Description
Dancing is My Voice is an annual Zumbathon® Charity Event during National Hispanic Heritage Month (mid September to mid October). The Event attempts to gather enough people on the National Mall in Washington, DC to break the Guinness Book of World Records for largest Zumba® class while raising awareness of sexual violence.
Current figures suggest that 1 in 6 women and 1 in 33 men will become a victim of sexual assault in his or her lifetime. I think about the men, women and children I care about — and I'm driven to take action.
We want to put this event in the Guiness Book of World Records as the Largest Zumba class. Currently the record for the Largest Zumba class is in the Philippines with 12,975 people.
Instead of simply asking donors for monetary contributions, our vision is to offer a fun and healthy fundraiser event that encourages strength, community and an active lifestyle. We are turning this fundraiser into a FUNraiser!
Don't miss our other events! Find out more at http://dancingismyvoice.com/
Download the mobile app to tell your story and stay up to date with sexual violence in the news.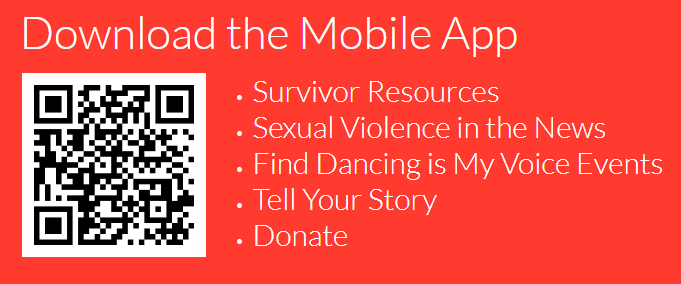 Thank you for your support!