Description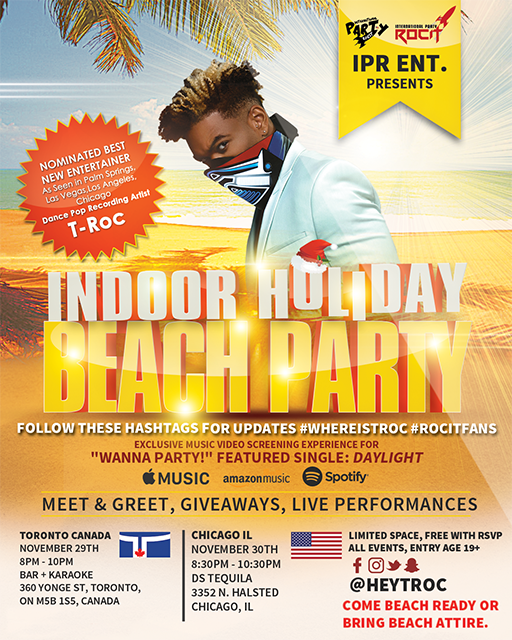 BEACH ATTIRE IS STRONGLY ENCOURAGED
Join us for this Exclusive music video screening experience for T-Roc's "Wanna Party!" featured single; Daylight!!

Download on iTunes: WP: http://apple.co/2wfL1L2
What to expect:
Meet & Greet, Giveaways, Music, Fun and more!
With Special Perfromances By,
Best New Artist Nominee T-Roc @heytroc and Canada's very own KLA @sheiskla
Toronto! Let's Make Hump Day (Wednesday) Unforgettable!!
Where:
Bar + Karaoke
360 Yonge St, Toronto,
ON M5B 1S5, Canada

Or Join Us In Chicago!!
Where:
DS TEQUILA
3352 N. Halsted
Chicago IL
Follow these hashtags for updates #WhereIsTroc #RocitFans
Learn More About T-Roc On Your Favorite Social Media Platform
▶FACEBOOK: http://facebook.com/HeyTroc
▶TWITTER: http://twitter.com/HeyTRoc
▶INSTAGRAM: http://instagram.com/HeyTRoc
▶SNAPCHAT: @heytroc
▶WEBSITE: http://www.HeyTRoc.com
additional contact info:
asha spacek, +13108746243