Dance Your Booty Off!

Weekly Event - Every Tuesday & Thursday: 7:00 PM to 8:00 PM (CST)
Event Details
__
_
DANCE YOUR BOOTYOFF!
With an NBA Cheerleader This December… 

D.Y.B.O. IS HOSTED BY NALEDI, NBA CAPTAIN     CHEERLEADER VETERAN OF FOUR YEARS.
She recently worked as Coach Choreographer
for Newsapalooza3 2012 Hosted By Roe Conn and Grammy Winning Richard Marx
LIKE US AT  Facebook.com/DANCEYOURBOOTYOFF
KICK OFF Tuesday December 4th, 2012
7:00pm – 8:00pm
HiFi Fitness Studio
820 N Orleans, Chicago, IL 60610
BURN OFF THE HOLIDAY TURKEY and Dance Your Heart Healthy in December with D.Y.B.O. 
Doctor's orders courtesy of cardiologists and doctors everywhere are 
saying DANCING is darn good for your heart and can help prevent heart disease.
THIS SEASON GET THE BODY OF YOUR DREAMS!
 NOW you can get that perfect 10 dancer body with DANCE YOUR BOOTY OFF!
$7 Bucks online at  - http://danceyourbootyoff.eventbrite.com
$10.00 at the door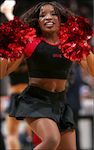 _http://youtu.be/SvuXWIsJ7JY
Where

HiFi Fitness Studio
820 N Orleans St
Chicago, IL 60610


Weekly Event - Every Tuesday & Thursday: 7:00 PM to 8:00 PM (CST)
Add to my calendar
Organizer
Naledi Sesinyi, 4 Year NBA Captain Cheerleader for the Chicago Bulls
Naledi Sesinyi, 4 Year NBA Captain Cheerleader for the Chicago Bulls
I especially love to work with the '"I can't dance or I never dance in public"' types; my counter is "IF YOU CAN WALK, YOU CAN DANCE in D.Y.B.O.!" Hosted by Chicago's very own Naledi, a veteran NBA Captain Cheerleader for the Chicago Bulls. Dont let the big title intimidate you...D.Y.B.O is designed for anybody with a heartbeat.
LIKE US ON FACEBOOK https://www.facebook.com/DanceYourBootyOff
Having appeared on WGN, ABC7 and NBC5 numerous times over the years, both as an NBA Cheerleader and as a featured dance fitness instructor, has made it easier for me to reach and connect with the everyday person. But a workout DVD or a TV show can never take the place of a live, sizzling, exciting and heart pumping class with people like you all around me so we can workout together as a Cardio Burn Team.
I also authored a published article in Quintessential Barrington titled "The Perfect Warm Up", because everything in life requires one. So try out Cardio Burn with me and see if it will be the perfect warm up to spice up and compliment your fitness regiment and Get you the Body of an NBA Cheerleader in 2012.

Also check out my other career highlights where I was featured as a Cover Model for Timeout Chicago January 2009 issue as One of Chicago's Top Trainers. I have several references and testimonials to back up my claims to an insanely fun dance fitness workout!

I teach class ranges from private one on one sessions, to small groups, to huge classes indoors and outdoors. 

My experiences also include exercise pole dance class instruction for which I was featured in various national magazines covering pole dancing as the new fun fitness craze.

I think its important to take different types of dance fitness classes to keep things from getting stale - what do you think?