Description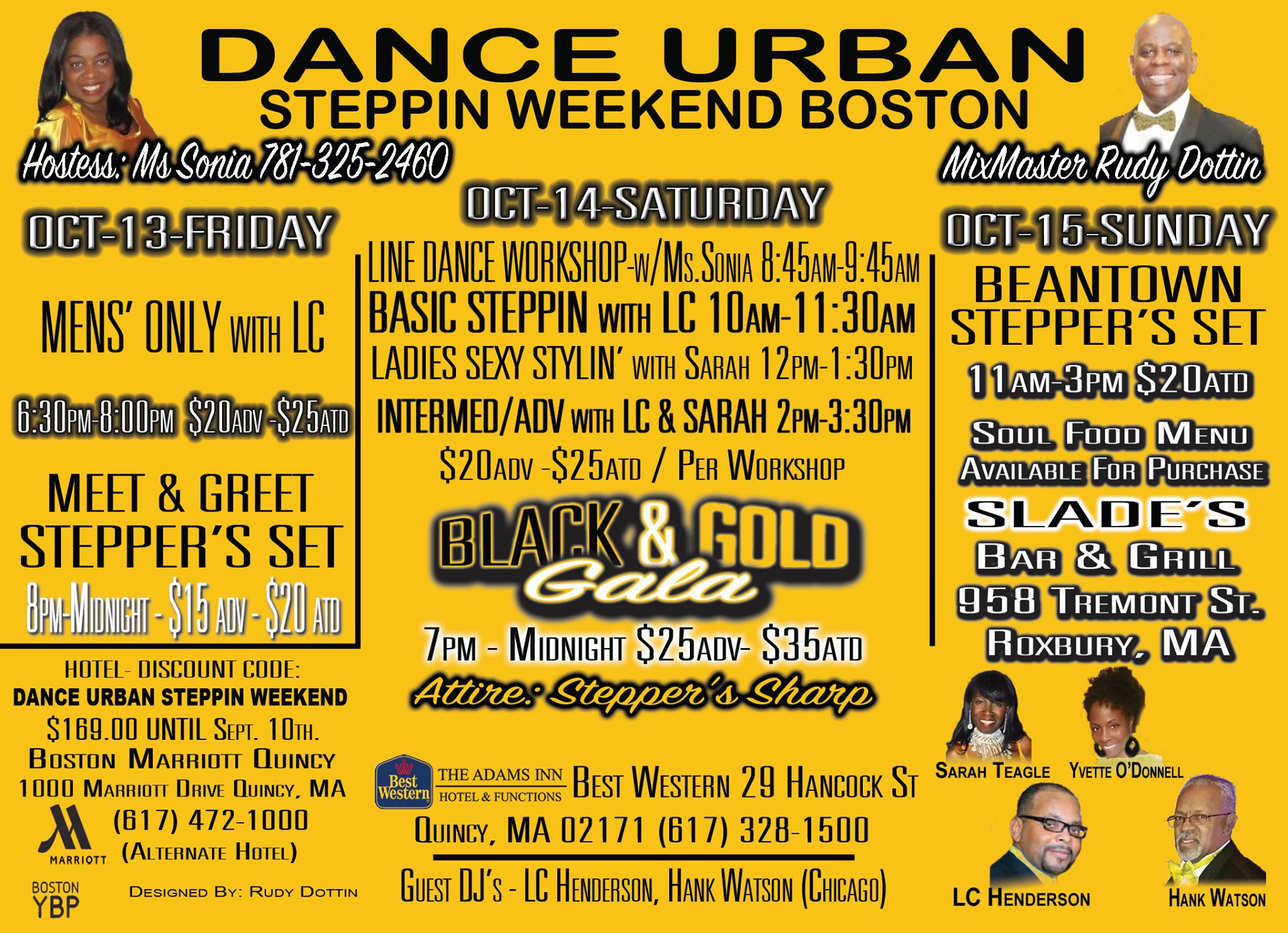 SCHEDULE OF EVENTS Payment options: Pay at the Door, Eventbrite or Paypal.
(All Event Purchases online must be present on Phone or Printed Ticket)
FRIDAY - 10/13/17 MEN'S ONLY STEPPIN WORKSHOP, 6:30PM - 8PM, $20 ADAMS INN, QUINCY
FRIDAY - 10/13/17 MEET & GREET SET, 8PM - 12AM, $20, ADAMS INN, QUINCY
FRIDAY - 10/13/17 FOLLOWING SET INVITATION TO MS. BETTY'S BDAY PARTY, BIFFS LOUNGE, 24 WASHINGTON ST, ROXBURY
SATURDAY - 10/14/17 WORKSHOPS 10AM - 3:30PM BLACK & GOLD GALA, ATTIRE BLACK OR GOLD, ADAMS INN
LINE DANCE WORKSHOP - 9AM - 10AM $25
BASICS TO ALL LEVEL STEPPIN WORKSHOP 10AM-1130AM WITH LC HENDERSON $25
LADIES SEXY STYLIN 12NOON - 130PM WITH YVETTE & SARAH $25
INTERMED STEPPIN, TRIOS & MORE - 2PM -330PM (LC, SARAH & YVETTE) $25
THE BLACK & GOLD GALA 7PM- 12AM, $35,
SUNDAY - 10/15/17 BEANTOWN STEPPER'S BRUNCH, 11AM - 3PM, $20 SLADE'S BAR & GRILL KITCHEN & BAR AVAIL "SOUL FOOD MENU
Don't miss out on attending Dance Urban's first Steppin Weekend with 4 Steppin Workshops and 3 Sets. After 1.5 years of building a meetup group and sharing my love of steppin during local Intro Sessions and hosting INTHEZONETHURSDAY SINCE 2013.
It's TIME...GREATER BOSTON...GET READY. 3 POWERFUL AND KNOWLEDGABLE INSTRUCTORS COMING TO OUR CITY: LC Henderson, Chicago IL, Sarah Teagle, Atlanta, GA and all visiting Steppers. This event is OPEN TO THE PUBLIC. Learn the basics of Chicago Steppin or enhance your dance for experience steppers.
If you live in Greater Boston..take advantage of the Savings: No Airfare Needed, the Workshop is in your Backyard, Stay in Host Hotel: Best Western Adams Inn where Friday and Saturday events are held. The Beantown Steppers Brunch is being held at Slade's Bar & Grill on Sunday (meal is not incl)
The Marriott in Quincy is 15 mins away offering more affordable rates
Online Advance Ticket Sales Close Oct 12, 2017 ALL ACCESS WEEKEND PASS $99 INCLUDES 3 STEPPIN WKSHOPS & 3 STEPPIN SETS
Special invitation to Small groups, Church Singles or Couples Ministries or Groups, HBCU Grads Meetup Members. Guys bring your friends and ask MsSonia about Discount.
Shopping Galore with our Specialty Vendors - CDs see DJ Hank
Bling It, Yvette's Jewelry, Sistah Series & More
Visit the danceurban.com website and Facebook Dance Urban Steppin Weekend Page for Updates.
Online Tickets available online Regular Price www.danceurban.eventbrite.com
https://paypal.me/DanceUrban www.danceurban.eventbrite.com
Welcome to Boston! Steppers coming from Chicago, Atlanta, Philadelphia, Atlantic City, North Carolina, Brooklyn, Hartford, CT, NYC .....
MsSonia
Dance Urban Organizer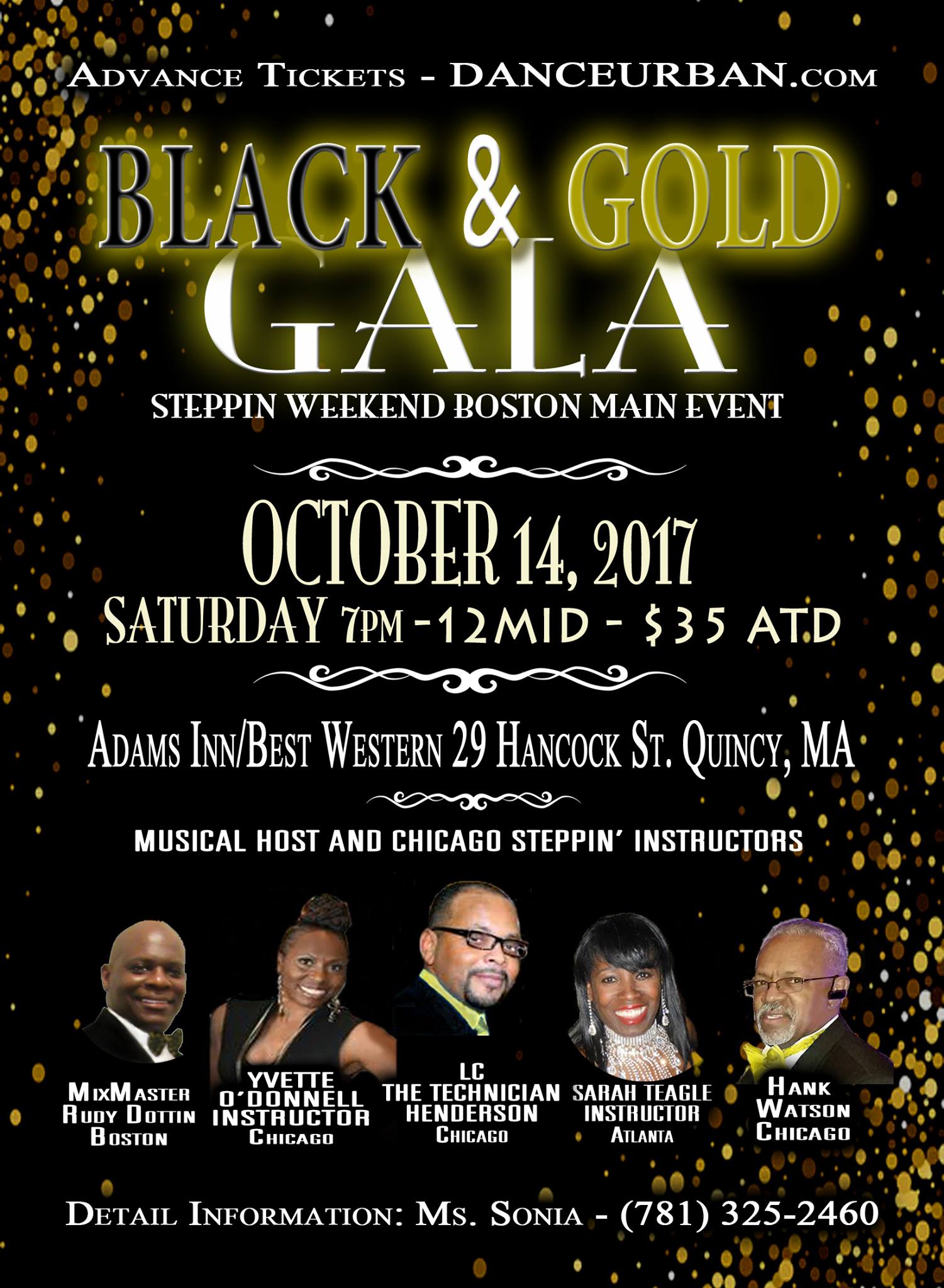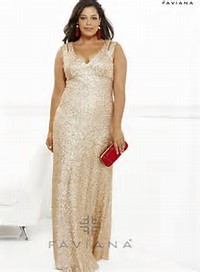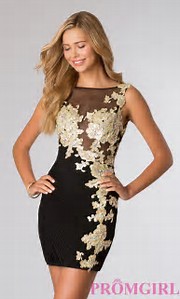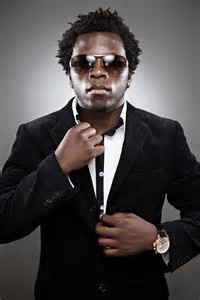 The discount room block is closed for both Host hotels. Please call the Host Hotel directly for current rates and /or see alternative accommodations in the area of Dorchester or Quincy.
Adams Inn (617) 328-1500 29 Hancock St, Quincy, MA www.bestwestern.com.
Marriott Quincy-Boston -Alternate suggested Hotel is 10 mins away with no traffic.