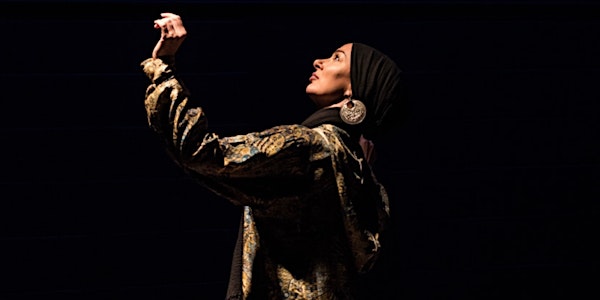 Dance & Spirituality: Panel Discussion
Presented as part of Amirah Sackett's residency at Boston University, by the BU Arts Initiative and BU Dance Program
Date and time
Wednesday, October 21, 2020 · 1 - 2:30pm PDT
About this event
As spirituality is explored in dance across cultures, we are honored to have Amirah Sackett joined by Ty Defoe (Writer and Interdisciplinary Artist), Shreelina Ghosh (Assistant Professor, English, Gannon University), and Carrie Preston (Professor of English and Women's, Gender, & Sexuality, and Director of Kilachand Honors College, Boston University) for this virtual panel discussion.
For more information about the event, please visit our website.
About Our Panelists
For our panelists full bios, please visit our website.
Ty Defoe (Giizhig) is from the Oneida and Ojibwe Nations. He is an interdisciplinary-hyphenated artist, activist, writer, cultural worker, and shape-shifter. As a two-spirit person Ty aspires to an integral approach to artistic projects, social justice, indigeneity, and environmentalism. Ty gained recognition in many circles around the world including a Grammy Award for his work on "Come to Me Great Mystery."
Shreelina Ghosh practiced the 2000- year old Odissi dance under eminent Odissi exponent, Guru Aloka Kanungo since the age of four. Shreelina has performed widely across India and the USA. Her choreographic work includes Panamami Buddham, Vayu: Visions of the Wind, Vyom: Mind of the Aether, and Shivaaradhana. She earned her PhD in Rhetoric and Writing from Michigan State University and is currently Assistant Professor of English and Director of Composition at Gannon University.
Carrie Preston serves as Professor of English and Women's, Gender, & Sexuality Studies and the Arvind and Chandan Nandlal Kilachand Professor Director, Kilachand Honors College at Boston University. Her research and teaching interests include modernist literature, performance, and dance, feminist and queer theory, and transnational and postcolonial studies. Her book, Modernism's Mythic Pose: Gender, Genre, Solo Performance, was released in Oxford University Press's Modernist Literature and Culture Series in 2011.
Amirah Sackett is an internationally recognized hip-hop dancer, choreographer, and teacher, who explores and embodies her Muslim American identity through combining hip-hop movement and Islamic themes. She is widely known for her creation of the choreography and performance group known as, "We're Muslim, Don't Panic", which reached viral video fame after being featured on POPSUGAR Celebrity, The Huffington Post, AJ+, and Upworthy.
About the organizer
The Boston University Arts Initiative ensures that the arts are fundamental to the BU student experience both inside and outside the classroom.