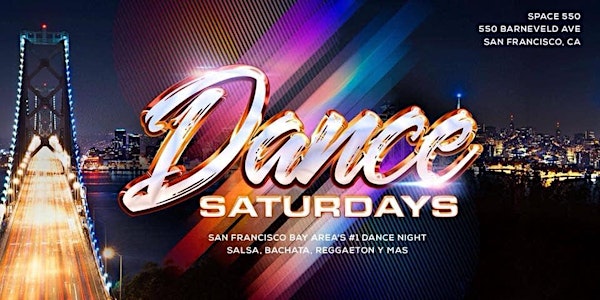 Dance Saturdays Bachata Takeover TURN UP, Bachata, Salsa, Dance Lessons
Event Information
Location
Dance Fridays & Saturdays - Space 550
550 Barneveld Avenue
San Francisco, CA 94124
Dance Saturdays - Bachata Takeover (Main Room) and Salsa Dancing, 2 Rooms, Beginning Dance Lessons for All at 8p
About this event
You're invited to a special Dance Saturdays!
Get your Tickets, https://dancesat5-28.eventbrite.com
2 Rooms of Dancing Bachata (Main Room) and Salsa (2nd Rooms), plus an awesome outdoor patio.
8p - BEGINNING BACHATA CLASS
9p - INTERMEDIATE BACHATA CLASS
-> All Levels, NO partner or Experience is required to learn!
San Francisco's Hottest night of Bachata, Salsa y Mas! Let's Turn Up Bay Area! Social Dance, Taco truck, Full Bar, Classes and more!
Get your tickets (limited capacity)! Get on the VIP list at  www.DanceSaturday.com
Learn to Dance at 8p, Bachata with Beginning Dance Lessons and MORE - no partner or experience required! These are the lessons to learn with!
Beginning Bachata dance at 8p followed by Intermediate BACHATA dance at 8:40. Dancing starts at 9:30p (New earlier start time). Dancing after 9:30.
Yes, you can learn bachata right there, and salsa too! The classes are fun and social, and then you can celebrate with the best bachata DJs, Salsa, Live music and more at the San Francisco Bay Area's #1 dance night, Dance Saturdays.
COVID: Please note, we strictly follow all Federal, State, and local guidelines.
Let's turn up Bay Area! Social Dance, Taco truck, Full Bar, Classes and more!
About this event
After so long we will have our good friends DJ Jaguar from Santa Cruz and DJ Kriskros from Sacramento, make sure you stop by and say HI, come ready to party because we will TURN UP the night!
Djs: •DJ Encannto (Santa Rosa), •DJ El Jaguar (Santa Cruz), •DJ KrisKros (Sacramento)
Classes! •Beginner Bachata/Salsa Lesson 8pm •Intermediate Bachata Lesson 9pm
Tickets!
•$15 Super Early Bird ends Wed May 18, 11.59pm
•$25 Early Bird ends Wed May 25,11.59pm
•$30 Online Tickets ends Sat May 28, 8pm
Please visit this event page for changes, and updates, as we expect them to happen regularly.
** Please note: Tickets are NOT refundable or transferrable (please, do not ask). Ticket's can never be held from one concert to another (one date to another date).   
Get your Tickets, https://dancesat5-28.eventbrite.com
We are an amazing venue with:
- Beginning Dance Lessons - Learn to Dance Bachata and Salsa!
- Massive Hardwood Dance Floors - Incredible Sound and Lighting
- High Ceilings and Outdoor patio (with LIVE Music)
- Centrally located with Plenty of FREE parking
More Details coming soon - watch this space (but grab tickets NOW as the early bird tickets will sell out very quickly).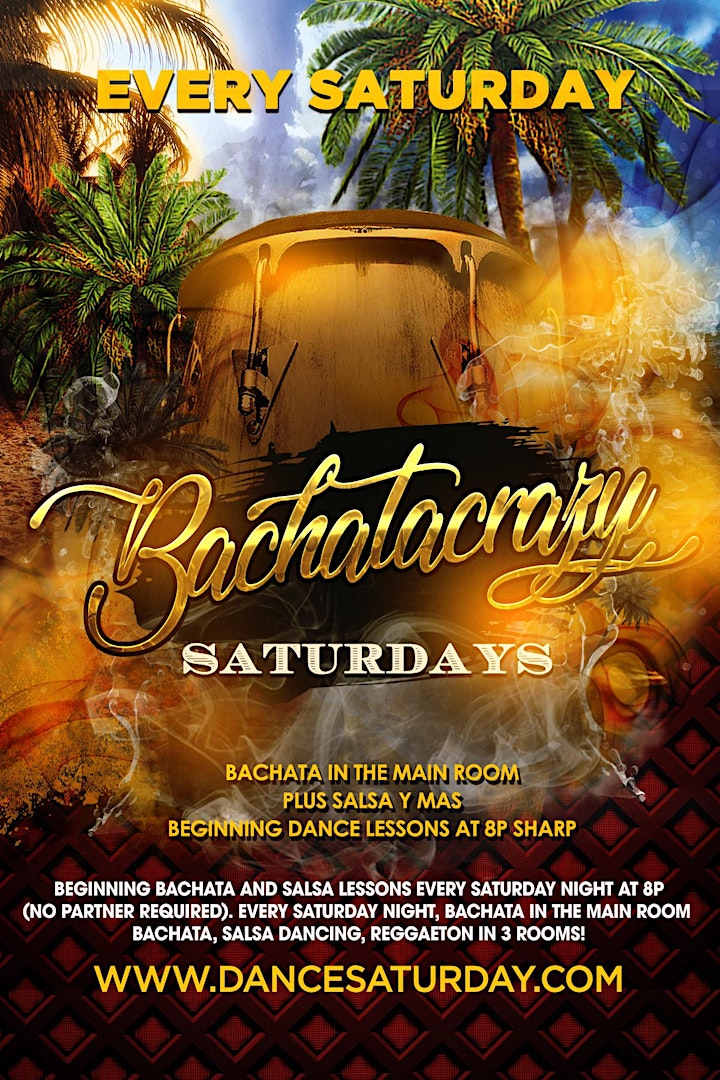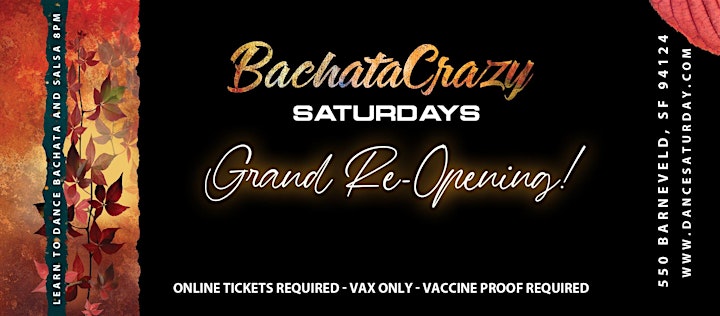 Date and time
Location
Dance Fridays & Saturdays - Space 550
550 Barneveld Avenue
San Francisco, CA 94124