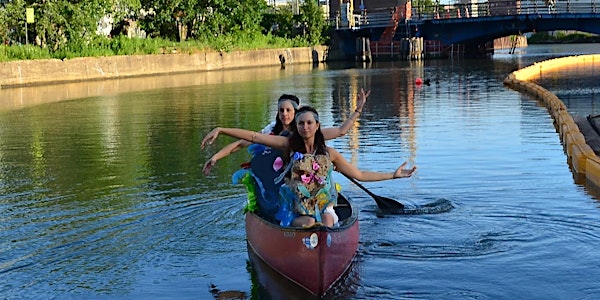 Dance Over Troubled Waters
A dance above the Gowanus Canal waters above canoes to celebrate the SuperFUNd cleaning by the EPA so we may enjoy safe recreation on water
When and where
Location
Gowanus Dredgers Canoe Club Boathouse 165 2nd Street Brooklyn, NY 11231
Refund Policy
Contact the organizer to request a refund.
About this event
We invite you to join us to celebrate the restoration of our Gowanus Canal with dance performances and insightful discussion. Our performance looks ahead to a thriving waterway where we live more harmoniously with the nature of our waterfront. A vibrant and eccentric neighborhood will be achieved through engagement. 
We encourage our local population to embrace our public open space as a community amenity. Gowanus shoreline space should be vibrant, fun and inspiring and not just planted areas and paved surfaces with railing that prohibit safe entry and exit from our waterway.
Our event opens with stunning choreography by Lauren Butler performed by Pamyla Cummings on a platform floating above the canal waters, supported by Gowanus Dredgers Canoe Club canoes.  Pamyla Cummings is a professional freelance dancer from Staten Island who has worked with Lauren Butler to translate a work of art that represents the historical impact and recent restoration of our Gowanus Canal. Pamyla is excited to bring this vision to life.
Lauren's Brooklyn-based company Resonant Dance creates art that connects urban residents with their environment, encouraging an emotional connection with nature, and raises awareness about global environmental justice. Her piece culminates with participatory action; the audience is invited to assist in the release of a remediation agent to assist with our EPA's Superfund cleanup. The Resonant Dance performance is followed by a narrative of the history behind the infamous Brooklyn waterway.
Next, the Gowanus Wildcats, a dynamic Drill Team shares a joyful and energetic dance on our Canal shoreline culminating in an invitation to some audience members to join the fun! The Wildcats is an all-female group composed mostly of local NYCHA residents who "combine stepping, marching and 'cheerleading without the pompoms'" (NYT). A member of the Gowanus Dredgers will then guide discussion on community engagement to solicit audience input on how to ensure vibrant public amenity spaces in the Gowanus area.
Our event is free and open to the public to stand and watch with distance, but we ask that you RSVP as attendance is limited and offer group (pods) reserved seating areas of 1-4 people for $20 (proceeds support Gowanus Canoe Club public programs). Rain at 4pm (or earlier depending on forecast) will postpone the event (rain date may be October or Spring) and paid seating will be held up to 10 minutes prior to start time so please arrive early. Arrive early as from 1-5pm, we offer a chance to use our canoes and explore our eccentric canal prior to the show!
This event is made possible with generous support is provided by the Partnerships for Parks Capacity Fund Grant. Please consider supporting them as they have supported us.