Description
The Holidays are around the corner, and it's time to begin the season of giving.
My Ninja! x The Blended Group have teamed up to bring you CULTURE SHOCK LA Dance Industry Night at the CONGA ROOM at LA LIVE.
Come celebrate and dance the night away under the electric stars as we raise money for a good cause.
Culture Shock LA is a non-profit group of dancers who use urban dance forms to engage traditionally underserved populations in the arts, and to present these forms with the same dedication and artistry given to classical dance styles. They promote the positive attributes of the Hip-Hop culture by teaching self-worth, dignity and respect through training in the visual and performing arts.
So why not dance and drink the night away to support this great effort.
Stand Up Los Angeles!!!
SURPRISE DANCE PERFORMANCES with a SPECIAL PERFORMANCE FROM CULTURE SHOCK LA!
FREESTYLE DANCE COMPETITION (More info coming soon)
SILENT AUCTION (Proceeds go towards Culture Shock LA)
MEDIA SPONSORS:
Pacific Rim Photo Video Press
PRODUCT SPONSORS:
My Ninja!
Mingle Social App
mVibo.com
MEGABASS Provided by:
PETER ROCKS
ROIAL 1
Drink and Bottle specials all night.
Table RSVP: 213.785.7321 or party@blendedevents.com
Conga Room Specials
Grey Goose & Patron $600
Jack Daniels & 42 Below$525
Grey Goose & Bacardi Superior$550
Patron & Bacardi Superior $525
Grey Goose & Moët Rosé Imperial $550
Patron & Moët Rosé Imperial $525
For more information on Culture Shock La, and how you can support, please visit www.cultureshockla.com
Presale Tixs Available at: cultureshockla.eventbrite.com
21+ over
Dress Code Strictly Enforced
9:30-2AM
800 Wilshire Blvd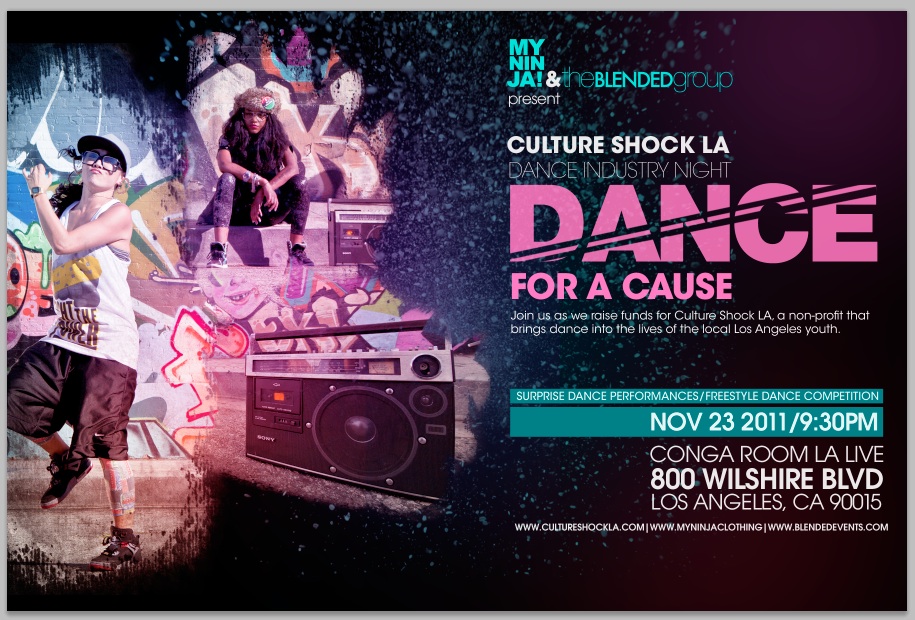 **********************************************************************
Step inside the new Conga Room and revel in an unmatched cultural and artistic immersion. Alive with Latin flavor, this state-of-the-art live event and entertainment facility encompasses 15,000 square-feet and is available for a myriad of events from record launches, movie premiers and award shows to social, philanthropic, Political, and corporate events.
The Conga Room features award winning architecture, a diverse array of event spaces, an expansive performance stage and dance floor, radio broadcast booth, as well as a menu designed by Wolfgang Puck Catering's Executive Chef, Matt Bencivenga & Chef Sonny Sweetman. Boca's environment is meant to transcend you into an intimate Latin dining room complimented with red chandeliers, candle-lit tables and hard wood floors. The Conga Room has been the recipient of hospitality, restaurant, and architectural awards.
Organizer of Dance Industry Night