Description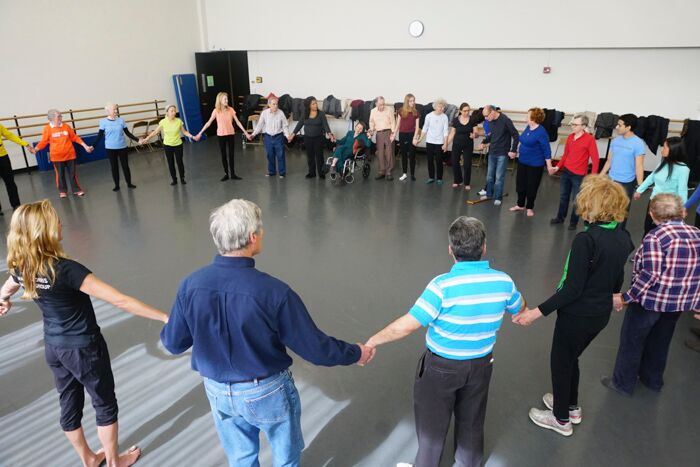 The Mark Morris Dance Group is pleased to present a Dance for PD community class on select Tuesdays from 11:00 AM-12:15 PM at Mind-Builders Creative Arts Center:
January 8, 22
February 5, 19
March 5, 19
All sessions free of charge to people with Parkinson's, their families, friends and care partners. Advanced registration is required for all participants, including care partners and volunteers.
We look forward to seeing you!
---
About the class
In Dance for PD® classes, participants explore movement and music in ways that are enjoyable, stimulating and creative. Founded as a unique collaboration between the Mark Morris Dance Group and the Brooklyn Parkinson Group, the program is built on one fundamental premise: professionally trained dancers are movement experts whose knowledge is useful to persons with PD.
Dancers know all about stretching and strengthening muscles, and about balance and rhythm. Most importantly, dancers know how to use their thoughts, imagination, eyes, ears and touch to control their movements. This popular class, which has been offered at the Mark Morris Dance Center in Brooklyn since 2001 and is now offered in more than 250 communities around the world, is appropriate for anyone with PD, no matter how advanced.
No dance experience is required. In chairs, at a barre or standing, you will explore elements of modern dance, ballet, tap, folk and social dancing, and company repertory in a non-pressured, social environment in which live music energizes, enriches and empowers.
For more information, please visit www.danceforpd.org. To purchase an At Home DVD, please click here. To speak with a member of our staff, please call (718) 218-3373.