Dance Dance Bama Bama: fundraiser for Alabama tornado relief

Sunday, June 12, 2011 from 3:30 PM to 5:00 PM (CDT)
Event Details
Dance Dance Party Party is proud to announce their second fundraising dance party, which will also be their second CO-ED dance party! Once again we will be opening our doors to dudes, so ladies, BRING YOUR MEN!!! Boyfriends, husbands, brothers, fathers, friends—we want to see some man meat on the dance floor! And keep reading, because this just keeps getting more and more exciting…

We will be using a special space for this fundraiser—one FOUR TIMES the size of our usual studio. This means we are hoping to pack in at least four times the amount of sweaty, gyrating bodies! Oh, and did we mention, we're reverting back to a 90-minute mix for this bad boy! And that we're making t-shirts?!?
We know, right?
We're suggesting a $20 dollar donation per person, which you'll see reflected in the Ticket Information above. If you want to give more, rock on with ya bad self! If you can't afford $20, come anyway and bring what you can—every dollar helps. 
So here's all you need to do: RSVP to let us know that you're coming. If you'd like, you can pay with a credit card in advance or just pay on the day of the event (cash or check only!). When you RSVP, you'll be given the option to tell us your t-shirt size--doing so means that you are committing to give us $15 on top of your donation for one of the tees our uber-talented friend Ross Zietz created for the occasion (check out the logo below!). And be sure to "publish" the event to Facebook, Twitter, or wherever else you do your internetting so's we can get the word out.
We can't wait to see you on the 12th (remember: new location! We encourage carpooling!). Let's celebrate our Sweet Home and the wonders of DDPP!
More details:
The organization we're raising money for—Compassion Coalition—is based in Tuscaloosa, one of the hardest hit areas and Kelley's hometown. Compassion Coalition is an organization of 50+ local church congregations (non-denominational and non-proselytizing) whose mission is disaster relief. It's been in existence since before Katrina. The focus of the organization is presently on creating as many transitional homes as possible to get people out of the shelters. Transitional housing is an intermediary step before permanent housing is available. It could be created by repairing existing, but vacant current homes, or "retrofitting" vacant storefronts. There are volunteer crews on the ground working on this, but they need funds for materials. Compassion Coalition is solely operated by volunteers, so all donations go straight back to the community instead of into salaries. Also, just so's you know, while Eventbrite charges a small processing fee for online sales, DDPP Chicago will be paying those costs so you can rest assured that all of your $20 donation is going straight to the charity. (Former Girl) Scouts' honor!
Can't make it to the jam but still want to help out? Give your donation to one of our denmothers any time before June 12 (we accept cash or checks made out to Compassion Coalition),  or just send a check directly to the charity at:

Compassion Coalition
P.O. Box 1507
Tuscaloosa, AL 35403-1507
and tell 'em DDPP Chicago sent ya!
Also, yet again, we'll remind you that this is a NEW LOCATION, not our usual studio.  The Church in West Ridge is at the corner of Peterson and Francisco. The parking lot is behind the church, off of Francisco, as is the entrance to the gymnasium where we'll be dancing (awww yeah!).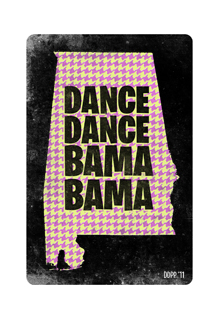 When & Where

The Church in West Ridge
6015 N Francisco Avenue
Chicago, IL 60659


Sunday, June 12, 2011 from 3:30 PM to 5:00 PM (CDT)
Add to my calendar
Organizer
Chicago hosts one of the many chapters of the female-only cult phenomenon known as Dance Dance Party Party™ (DDPP™). Unlike typical workout or dance classes, Dance Dance Party Party™ has no instructors, no fitness goals, and nothing to prove. There are only three rules in the room – no boys, no booze, and no judgment.
When we're not breaking the first of these rules for a good cause, we meet on Wednesdays from 7-8pm & on Sundays from 4-5pm at 4057 N Damen Avenue (Perceptual Motion Dance Studio) in Chicago, Illinois, US of A.
Learn more about us on
our blog! http://ddppchicago.wordpress.com
FB! http://www.facebook.com/DDPPchicago
the Twitters! http://twitter.com/ddppchicago