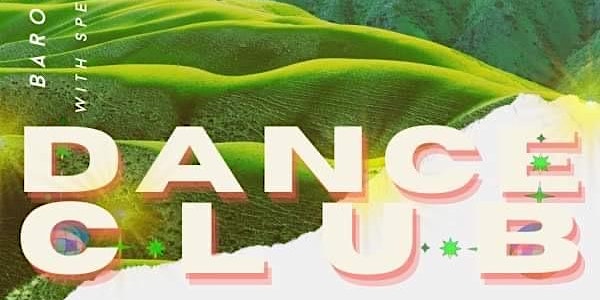 Event Information
Performers
Baronhawk Poitier
Joyce, Molasses
Location
DC9 Nightclub
1940 9th St NW
Washington, DC 20001
with DJs Baronhawk Poitier and Joyce : HOST - Molasses
About this event
Proof of Vaccination REQUIRED
DC9 will require proof of vaccination for entry. Physical card or digital photo will be accepted. Proof of vaccination must match name on photo ID and will be checked at the door.
You can find more information HERE.
Things change quickly and we are all in the same boat trying to navigate and do our best to keep our concerts and communities safe. We appreciate your patience and understanding with our staff as we navigate this together. Thank you for your cooperation & continued support!
This is an ever changing situation and we reserve the right to change these policies at any time.
Baronhawk Poitier and Tommy C. from TNX & Joyce from 1432 R records and the Extended Family mix series have teamed up for Dance Club, a new queer-focused night celebrating DCs excellent dance music and robust dance floors.
Dance Club will be heading to DC9 again, a DC staple always giving that boompty boomp!
HOST: Molasses FACEBOOK | INSTAGRAM
All attendees must show proof of vaccination and wear a mask. If you're feeling sick- stay home. Thanks for helping to keep everyone safe.
Pre-sale tickets are available for $5 and will be available for $10 day of and at the door.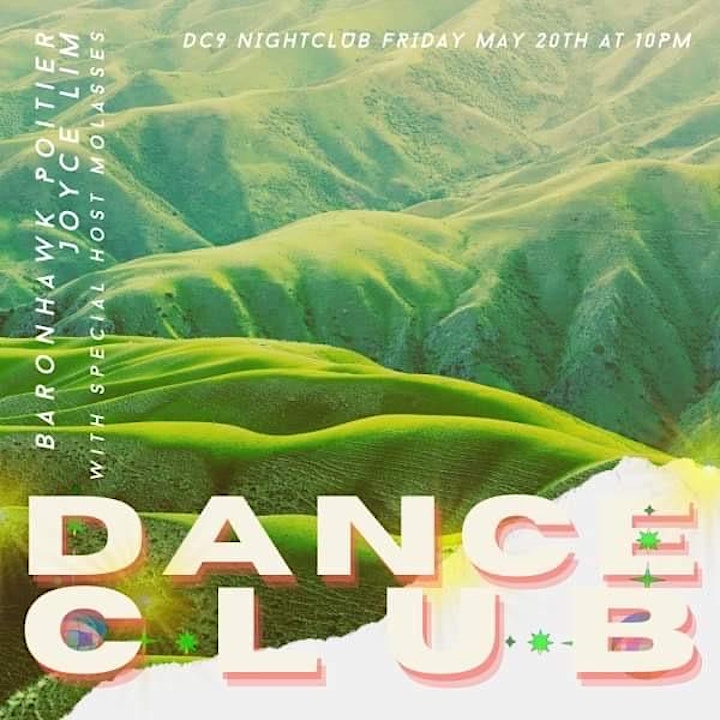 Baronhawk Poitier

<P><A HREF="https://danceclub.link" REL="nofollow noopener noreferrer">WEBSITE</A> | <A HREF="https://www.instagram.com/Baronhawkpoitier/" REL="nofollow noopener noreferrer">INSTAGRAM</A> | <A HREF="https://twitter.com/baronhawk" REL="nofollow noopener noreferrer">TWITTER</A> | <A HREF="https://soundcloud.com/baronhawkpoitier" REL="nofollow noopener noreferrer">SOUNDCLOUD</A> | <A HREF="https://ra.co/dj/baronhawkpoitier" REL="nofollow noopener noreferrer">RESIDENT ADVISOR</A></P><P>"Since 2005, Baronhawk has served as an Artistic Director, DJ, and producer for Urban Artistry Inc., a 501 (c)3 non-profit organization. In partnership with U Street Music Hall, he has opened for artists such as: Disclosure, Oscar G, Grandmaster Flash and local DC legend Sam "The Man" Burns. As an active member of "The NeedlExchange" (a DC based, queer DJ collective) he's hosted and opened for artists such as Honey Soundsystem, DJ Harvey, Horse Meat Disco, Honcho and Honey Dijon. Due to his background in competitive dance culture, Baronhawk earned opportunities to play at respectable events such as: "The Book of Styles" (DC), "Think Big Battle" (Denmark), "Who Can Roast The Most" (DC), and the USA qualifier for the "Flow Mo Anniversary." While working as an Assistant Manager at The Record Exchange, he began collecting vinyl, CDs and other forms of media, gaining a deep respect for the art of digging."</P>

Joyce

<P><A HREF="https://danceclub.link" REL="nofollow noopener noreferrer">WEBSITE</A> | <A HREF="https://www.instagram.com/1432r__" REL="nofollow noopener noreferrer">INSTAGRAM</A> | <A HREF="https://ra.co/dj/joyce-us" REL="nofollow noopener noreferrer">RESIDENT ADVISOR</A></P><P>Joyce brings an essential sonic diversity to any dance floor. As co-owner of the imprint 1432 R, she's been responsible for contributing to the production of some of the world's most adventurous and fearless dance music. Not only does every release benefit from her approval, but the iconic graphic nature of the labels artwork and visual content can be attributed to her razor sharp illustration skills, as she constructs them herself with a careful consideration.</P><P></P><P>Joyce also curates Extended Family DC, a DJ mix series focusing on selectors from the DMV (DC, MD, VA) area. It compulsively centers itself around diversity and pride in her hometown and its surrounding areas. The diversity of the mixes presented range from various forms of electronic, punk, rock, ambient, jazz, hip hop, and everything in between. </P><P></P><P>Her work has been featured in publications such as the Fader, National Public Radio, FACT mag, Resident Advisor, XLR8R, the Truants blog and Pitchfork. </P><P></P><P>While honor, pride, with a dash of sass can be expected from any of her projects, all parties curious about working with Joyce must value the principles of radical acceptance, fierce experimentation, dedicated fellowship, and deliberate activism. Any stoicism shall always be rewarded with a quality production that carries a fierce attention to detail and professionalism. </P><P></P><P>Expect Joyce to be hopeful, unburdening, playful, and reverent.</P>

Molasses
Performers
Baronhawk Poitier
Joyce, Molasses
Date and time
Location
DC9 Nightclub
1940 9th St NW
Washington, DC 20001
Refund policy