About this Event
We offer a variety of Adult Dance Classes!!!
See Below for our class schedule! Or visit our website for more details.
Turn to Pacific Arts Center & Dance Studios for instruction in a variety of dance forms. Shida Pegahi, an arts educator and dance choreographer, founded Pacific Arts Center & Dance Studios in West Los Angeles, California, in 2001. She studied ballet at the Royal Ballet School in London and performed ballet, jazz, and ethnic dance with several touring companies in the United States. She was head of the children's program at Westside Academy of Dance and head of the dance program at Crossroads School in Santa Monica for six years. She is the founder and artistic director of Ney Nava Dance Theatre, which performs contemporary and mystical Persian dance throughout southern California and nationally. Shida is also the co-founder of The Levantine Cultural Center.
Mondays 6:30 - 7:30 PM CARDIO GROOVE WORKOUT
Tuesdays 10:00 - 11:00 AM PERSIAN BELLY WORKOUT
5:30 - 6:30 PM BEGINNERS BALLET
Wednesdays 10:00 am - 11:00 AM BARRE CORE WORKOUT
5:00 - 6:00 PM CONTEMPORARY
6:00 - 7:00 PM HEELS
Thursdays 10:00 - 11:00 AM PERSIAN BELLY WORKOUT
4:00 - 5:00 PM BALLET
5:00-6:00 PM JAZZ
6:00 - 7:00 PM Int/Adv HIP HOP
Fridays 11:00 - 12:00noon ZUMBA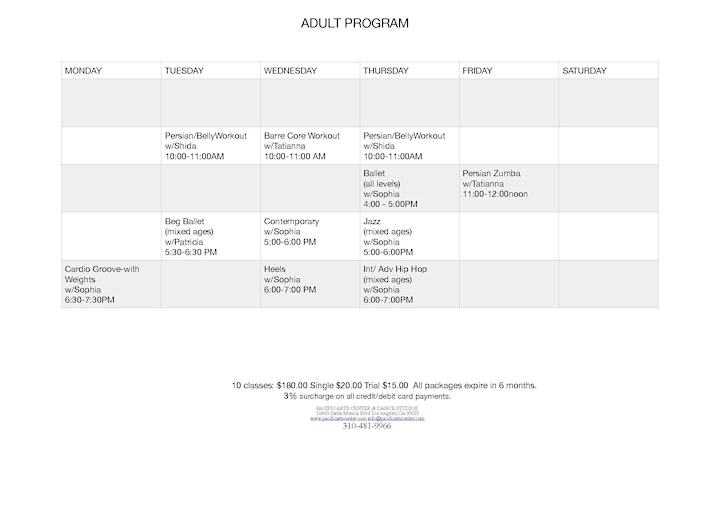 Date and Time
Location
Pacific Arts Center And Dance Studios
10469 Santa Monica Boulevard
Los Angeles, CA 90025
Refund Policy