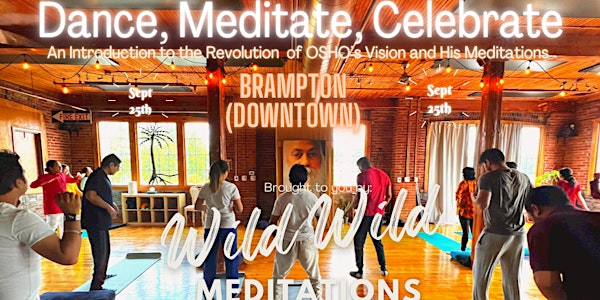 Dance, Celebrate, Meditate: An OSHO Meditation Retreat
An Introduction to the Revolution of OSHO's Vision and His Meditations
When and where
Location
The Aura House 57 Mill Street North Unit 301 Brampton, ON L6X 1S9 Canada
Refund Policy
Contact the organizer to request a refund.
Eventbrite's fee is nonrefundable.
About this event
Beloved Friends,
We had a juicy event last Sunday! The energy was tangibly ecstatic. One of the meditators who had attended longer meditation camps in India and Nepal commented that he had never seen such a melting of energies in a 1 day program. He said usually it took a few days for people to get to that state.
Let's take another journey together on September 25th into the mystical world of OSHO. We will explore the wild contribution of OSHO (1931-1990) and his approach to raising consciousness. The Dalai Lama said it best:
"OSHO is an enlightened master who is working with all possibilities to help humanity overcome a difficult phase in developing consciousness." - The Dalai Lama
OSHO is a multi-dimensional phenomenon. Whether it's one of the 500 plus books that were transcribed from his live talks to disciples or His OSHO Active Meditations.
It's impossible to classify what box his vision belongs to. But as time goes by His meditations, talks and books become even more relevant.
The core of OSHO's vision is meditation and giving individuals the contemporary tools to go within. We will take a multi-dimensional approach to structuring a full day meditation retreat. No prior meditation experience is needed. All methods will be instructed as per OSHO's original guidance.
OSHO's brother, Swami Shailendra Saraswati, will be joining us again via Zoom in the morning to further grow the energy. His insights into going deeper within OSHO's Active Meditations as well answering questions from meditators were AMAZING (click link here to hear recorded session). He is a medical doctor by profession but has dedicated most of his life to sharing Osho's work. You can find out more about him on his page, OSHO Fragrance.
After lunch Terry Hodgkinson founder of Positive Changes Hypnosis Etobicoke and friend of OSHO's work (regular visitor to the Pune Resort) will be joining us again for a special meditation session. Terry's experience in meditation as well as his work in mixed martial arts bring a unique and creative experience for meditators and is always a hit!!
The venue will once again be held at the magnificent The Aura House in Brampton.
See pictures of last event on the Wild WIld Meditations Facebook page.
Love
Amrito* and the Wild Wild Meditations Team
WHERE: The Aura House
57 Mill Street Unit 301,
Brampton, Ontario
WHEN: 8:00am - 5:30pm
TICKETS:
Promo Codes:
Group of 4 : Group ($10 off per ticket)
Student: Student ($55 per ticket)
CONTACT:
Pawan: 289 489 6834
Amrito: 647 500 3477
e: amrito.b@gmail.com
SCHEDULE:
8:00am : Arrival and Orientation
8:45am: OSHO Dynamic Meditation
9:45am: Vegetarian Breakfast
10:30am: Zoom talk with Swami Shailendra (new)
11:30am: OSHO Natraj Meditation
12:30pm: Afternoon Celebration
1:00pm : Vegetarian Lunch
2:00pm :Meditation Session with Terry H (new)
3:00pm: OSHO Art of Listening
3:30pm :OSHO Nadabrahma Meditation
4:30pm: Tea Break
4:45pm: Aum Meditation Circle and Sharing
Amrito has been facilitating OSHO Meditation Retreats since 2007. Since that time he has hosted over 100 meditation events. He has been a lover of OSHO since he was 14 and it was in these early years that he became a wild wild meditator. He is inspired and passionate to create spaces/events where meditators are surrounded by other meditators.