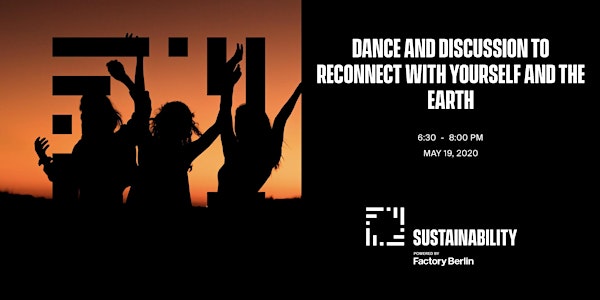 Dance and Discussion to Reconnect with Yourself and the Earth
Your Participation Matters: We will plant at least 10 Trees per attendee with the help of Active Giving.
About this event
Dancing online in the comfort of your home? Sounds cool, scary, interesting? Whatever you're feeling: Let's put our dancing shoes on and join together in this virtual dance party and fun community experiment. I promise, you'll be having a blast!
Dance is one of the oldest and most profound human technologies of connection. It is a powerful tool for releasing emotions and achieving insight. It reconnects us with the natural wilderness of the body, with the disowned parts of ourselves, with group consciousness and with the Earth. – MediTANZion
So let's dance ourselves into a new and more sustainable tomorrow!
First Laurent, the co-founder of Active Giving, the first Social Fitness Network for Good, tells us how we can contribute to saving the planet through sports and movement.
Then Naftali, the founder of the dance event, MediTANZion, guides us through a healing dance journey that will ground us, send us straight into our bodies and help us reconnect with our physical and primal selves.
Once we're fully present, we share our experiences in a light discussion on how we can individually contribute to a better tomorrow?
During these times, we all depend on each other. If you feel like donating to Naftali and MediTANZion, you can paypal here and sign up to the Active Giving platform to test the App for free :)
Agenda
18.30 Intro & Getting to know each other
18.45 Laurent Petit introduces Active Giving
18.55 Ecstatic Dance by Naftali
19.35 Sharing/Discussion
20.00 Closing
About the Facilitators
Laurent Petit is the co-founder of the Social Fitness App, Active Giving. He's passionate about bringing people together through sports. He has developed many communities in Berlin and internationally through a series of events like the Urban Art Run and the creation of Runlive.
Naftali is a multi-instrumentalist and hypnotherapist whose passion for creating trance-formative states of connection bridges the worlds of music, movement and healing. In addition to organizing Urban Ritual gatherings, Grief ceremonies, Sound Journeys and Conscious Dance events, Naftali offers therapeutic workshops and individual sessions in Hypnotherapy, Compassionate Communication and Radical Presence.
Who is it for?
This is event is for changemakers, entrepreneurs, practitioners of conscious practises, dancers, yogis and anyone are interested in a sustainable lifestyle who wants to be a proactive force of systemic change.
Why attend?
To be active and dance together even when we're apart.
To connect deeply with yourself, your community and mother Earth.
To network with like minded people and exchange ideas on how to bring about change.
Event Link
A Zoom Link will be sent to your email address right before the event.
About Factory Berlin
Factory Berlin is an international community of innovators and changemakers who empower each other to create, share, and disrupt. Inspired by Andy Warhol's famed Factory in New York, Factory Berlin brings together the brightest minds from tech, politics, arts, and science into one dynamic and collaborative ecosystem.
//Factory Berlin Member tickets are reserved for members of Factory Berlin only.
At Factory Berlin we're going virtual with our events programming in light of the current limitations to gatherings of a certain size. We have brought together our network and community to curate a selection of valuable online events to provide the support that our members need in this time of uncertainty. If you'd like access to our network, partner offerings and online content and programming, you can become a member. Find out more here !