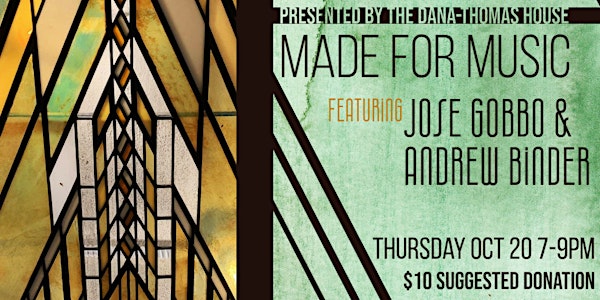 Dana-Thomas House: Made For Music Featuring Jose Gobbo and Andrew Binder
We're excited to have you join us for the return of our popular Made For Music concert series at the Dana-Thomas House State Historic Site.
When and where
Location
Dana Thomas House 301 East Lawrence Avenue Springfield, IL 62703
About this event
The Illinois Department of Natural Resources and numerous community partners are excited to announce the return of a concert series at the Dana-Thomas House State Historic Site in Springfield. The first concert, which will feature José Gobbo and Andrew Binder is scheduled for Thursday, October 20 from 7 p.m. to 9 p.m. The ticket is a suggested donation of $10.
Seating is limited. Reservations are required and can be made on this page, online at historicspringfield.dnr.illinois.gov or by calling 217-782-6776.
Jose Gobbo is a Brazilian jazz guitarist based in Central Illinois. In the spring of 2022 he was Artist-in-Residence at Allerton Park in Monticello, IL, which culminated on the solo guitar album "Allerton Park Suite". Jose is a doctor in jazz performance throughout the University of Illinois Urbana-Champaign , and in 2022 alone he has performed in New York City, Chicago, Nashville, Pittsburgh and St. Louis.
Andrew Binder is a bassist and composer from St. Louis, Missouri. He has performed regularly with notable musicians such as Chip McNeill, Tito Carrillio, Joel Spencer, Larry Gray, Chip Stephens and Joan Hickey. Andrew obtained his Master's in Music Theory & Composition from the University of Miami and is currently finishing his D.M.A. in Jazz Performance at University of Illinois Urbana-Champaign.
The Made for Music community partnership consists of the University of Illinois School of Music, NPR Illinois, Illinois Symphony Orchestra and the Illinois Department of Natural Resources. The Dana-Thomas House features several performance balconies and other architectural features that make it an ideal location for musical performances. The concerts, which will pilot this year and follow a full schedule in 2023, aim to enrich the community by showcasing an array inspiring musical performances in world-class architecture.
The Dana-Thomas House, built between 1902 and 1904, is one of the largest and best-preserved of architect Frank Lloyd Wright's "Prairie Style" homes, with more than 400 pieces of specially made art glass and original furniture. The Dana-Thomas House is open daily for tours. Tour reservations are encouraged and can be made at danathomashousetours.eventbrite.com.
Venue Information
The Dana-Thomas House State Historic Site was designed and built between 1902 and 1904 by renowned American architect Frank Lloyd Wright. The performance will take place in the gallery/studio of the home, originally designed as a place for homeowner Susan Lawrence Dana to welcome the community for arts programming. Please note that stairs are required to access this room.
Parking
Free parking is available in the lot at the northeast corner of Fourth Street and Lawrence Avenue (former YMCA parking lot), directly across the street from the house.
Tours
Guided tours of the Dana-Thomas House are available daily; reservations are encouraged. More information and reservations are available at danathomashosuetours.eventbrite.com