About this Event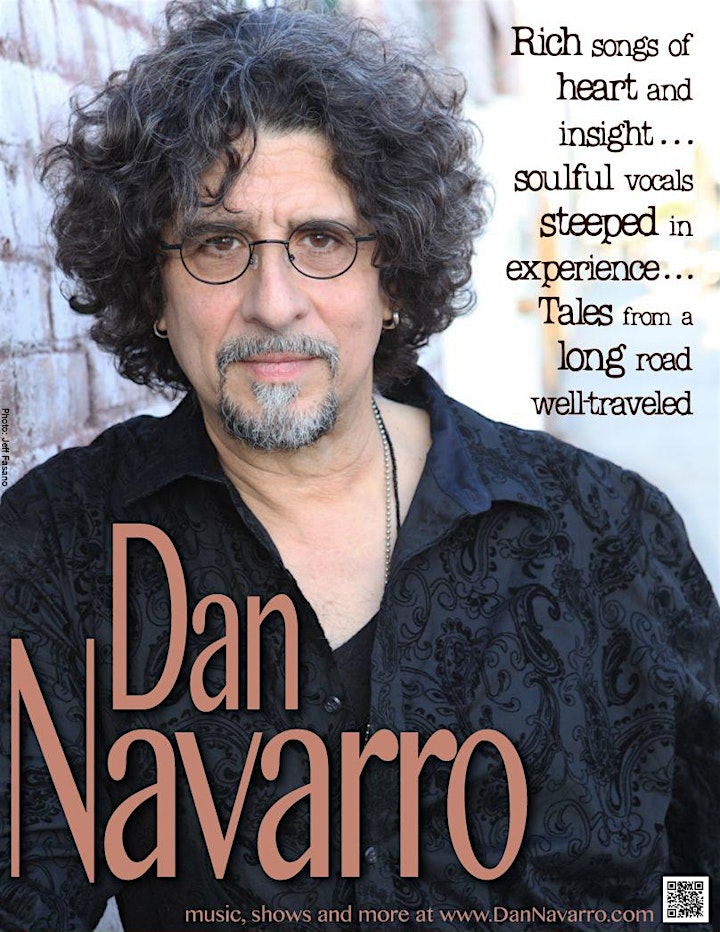 For over thirty years, Dan Navarro has written, sung, played and acted his way through a rich and varied career...
For nearly three decades it was with Eric Lowen as the pair ascending from singing waiters to internationally successful songwriters; named in 2008 to Performing Songwriter's 100 Most Influential Independent Artists, Lowen & Navarro wrote Pat Benatar's Grammy-nominated "We Belong," a Top-5 smash in 30 countries; Wink's #1 Japanese hit "One Night in Heaven"; and songs recorded by Jackson Browne, The Temptations, The Bangles, and many more. Lowen & Navarro toured and recorded, making 11 studio albums together, until the effects of ALS (Lou Gehrig's disease) retired Lowen in 2009. That same year Navarro delivered his first recorded music sans Lowen, the Live at McCabe's CD, from one of his favorite venues in his adopted hometown of Los Angeles.
And then his music stepped aside for a while as Dan Navarro stayed continued his voice work for films, TV shows, commercials, and video games; fighting for musicians' rights and intellectual property issues all the way to the Senate Judiciary Committee; and serving on the boards of SAG-AFTRA, The Levitt Pavilion Pasadena, and Folk Alliance International.
Shed My Skin, Dan's long awaited new album comes years after Navarro's initial move toward life after Lowen. "It was probably around 2011 that I started writing with the solo perspective," he says, "and the first two songs that came out of that were 'Bulletproof Heart' and 'Hard for Me Now,'" two of the new album's standouts.
Navarro asked long-time friend Steve Postell (Danny Kortchmar, Jennifer Warnes) to produce and play guitar when recording started in 2013. Shed My Skin wound up being a dozen songs — seven Navarro originals, one co-write, and four covers: Kenny Edwards' "Night Full of Rain"; "You Drove Me Crazy," by Tom Wilson of Blackie & the Rodeo Kings and Lee Harvey Osmond; the Jimmy Webb standard, "Wichita Lineman"; and Billy Idol's "Sweet Sixteen" performed by Navarro, Postell, and a double-take list of A-Listers.
Shed My Skin is Dan Navarro's individual statement and it's finally here for all to hear.