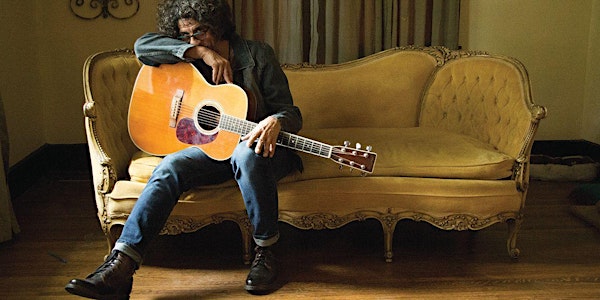 Location
Swallow Hill Music - Tuft Theatre
71 East Yale Ave
Denver, CO 80210
Swallow Hill welcomes Dan Navarro to our Tuft stage!!
About this event
Please see Swallow Hill Music's updated COVID-19 Policy here.
Dan Navarro's long and eclectic resume includes "songwriter," "recording artist," "singer", "voice actor", "road warrior" and "media advocate" in its range of credits.
His acoustic duo, Lowen & Navarro, released twelve albums, enjoyed widespread Triple A radio airplay and performed 1500 gigs before Eric Lowen's retirement in 2008 and passing from ALS in 2012. Dan set out solo in 2007, and maintains a busy touring and recording schedule. He released a solo album, "Shed My Skin" in 2019 to glowing reviews, and is recording its follow-up now.
WORKSHOP: Dan is teaching a creative and collaborative songwriting workshop on Thursday, June 23 from 6-9 p.m. Get details and register here.
He has just released a new duo album with James Lee Stanley, "All Wood and Led" re-imagining Led Zeppelin songs in organic "Laurel Canyon" settings. It's the fourth in James Lee's series of duo albums with various partners (John Batdorf, Cliff Eberhardt), previously interpreting the songs of The Rolling Stones and The Doors. "All Wood and Led" shipped in July, 2021.
Dan responded to Covid lockdown by live streaming over 250 2-hour-plus performances in 13 months, under the banner "Songs From the CoronaZone", on Facebook, YouTube and Twitch. He returned to the road in late April 2021 on his "NomadDan" Tour, in an 18-foot camper van, covering 66 days, 41 performances and 13,500 miles before breaking to record his next album. The "NomadDan" tour resumes in mid August and will roll the remainder of 2021.
As a songwriter, Dan wrote or co-wrote songs for Pat Benatar (the Grammy nominated "We Belong"), The Bangles, Japanese girl group Wink (the #1 hit "One Night in Heaven"), Dutch superstar Marco Borsato (the Top Ten "Je Hoeft Niet Naar Huis Vannacht"), Dave Edmunds, The Temptations, Dionne Warwick, and Austin outlaw country legend Rusty Weir.
His songs have appeared in the films Deadpool 2, Pitch Perfect 2 and Talladega Nights, TV series This Is Us, American Idol, The Voice, American Dad and The Office and national commercials for Sheraton, Chase Bank and the United Way.
As a singer and/or voice actor, he's sung in the Academy Award winning films Coco and Happy Feet, the newly-released Dora and the City of Lost Gold, The Lorax, Ice Age 2, The Simpsons, Prison Break and American Dad; voiced characters in Pirates of the Caribbean 5, The Book Of Life, The Playmobil Movie and We Bare Bears; sung on albums by Luis Miguel, Andrea Bocelli and Neil Young; voiced video games Red Dead Redemption II, Fallout 4 and Uncharted 4, and performed vocals and voice-overs in literally hundreds of commercials for Toyota, Coca-Cola, McDonald's, Honda, Subaru, All-Nippon Airways and many more.
In his "spare" time, Dan serves on the Board of SAG-AFTRA, the actor-performer-broadcaster's union, as the National Recording Artist/Singer Vice President, on the Unclaimed Royalties committee of the Mechanical Licensing Collective, and is a past president of Folk Alliance International. He's been a vocal activist in Washington DC for intellectual property rights for over 20 years, testified before the US Senate Judiciary Committee and the Copyright Royalty Board.
He's the proud father of a 25-year old filmmaker son, thinks art is love, sleep is for babies and is a known abuser of acoustic guitars.