Dan Cox: "Every Person, Right Seat"

Thursday, December 12, 2013 from 12:00 PM to 1:00 PM (EST)
Event Details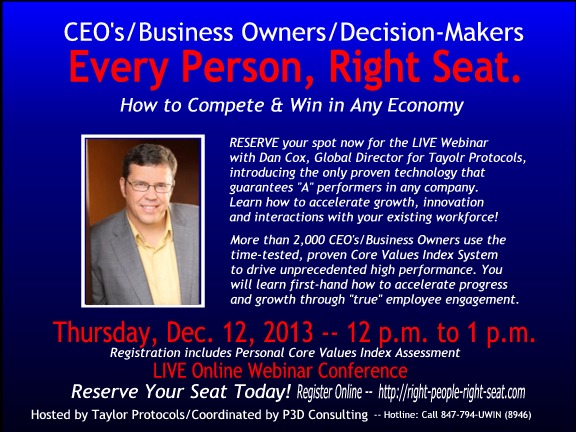 Presents
EVERY PERSON, RIGHT SEAT:
How to Compete & Win in Any Economy
December 12th
LIVE Online Webinar
Complimentary Taylor Protocol
Core Value Assessment
provided with your RSVP
Most business leaders believe that putting the right person in the right seat is a real advantage in developing optimum business results.  We just haven't known how to do this effectively and consistently.
This presentation calls upon research by Gallup, HR Executive Magazine, and Forrester Reports to illustrate the magnitude of opportunity when we learn how to put every person in the right seat in our companies.
Dan Cox will be sharing about the work that Lynn Taylor pulls from his twenty years of small and mid-sized business turn-around management projects to illustrate the negative and positive effects of seat assignment in all kinds of companies.
A new Science of Employment Pre-Selection is described and the Taylor Protocols proven methodology with actual multiple company results are presented.
Prior to the event, all individuals are provided a Core Values Index to complete online in less than 10 minutes.
About Dan Cox:
Dan is the Global Director of Associate Development for Taylor Protocols. He brings a unique brand of coaching that includes a keen understanding of human systems and dynamics. For over 15 years, Dan was a licensed professional counselor, working with families, couples, and individuals who faced some of the greatest challenges one could imagine. His work as an Executive Coach over the past several years had taken him into many key organizational scenarios requiring a thoughtful and methodical delivery of conflict regulation, mediation, coaching, and training. Dan's approach has resulted in companies taking courageous steps toward company-wide cultural change.
About Lynn Taylor:
Lynn Taylor is president of Taylor Protocols, Inc. He created the Core Values Index™, the first human assessment that characterizes and quantifies the innate unchanging human nature of a person.
Abraham Maslow identified this innate nature in his seminal book, The Psychology of Being, as the key to understanding who a person is and where he fits best in the world.
Mr. Taylor's Core Values Index is now being used in hundreds of companies around the world. Lynn's book, The Core Values Handbook is available at Amazon.com and at www.TaylorProtocols.com.
Taylor's Core Values Index™ is used in thousands of companies worldwide. Lynn has performed more than 900 successful turn-around and business optimization projects using his CVI™ to increase human productivity, and leadership performance in companies including: ALCOA Primary Metals, ATT Wireless, Weidner Investments, New England Financial, RBC Dain Rauscher, and Merrill Lynch. 

2000+ executives have benefited from Lynn's personal leadership coaching. As titular CEO, he has positioned over 8,000 individuals into seats of highest and best contribution, increasing client company bottom line performance beyond expectations. 
He and his Core Values Index have been employed to increase human productivity and to increase the leadership performance in hundreds of companies large and small.
At Taylor Protocols, Lynn uses this scientific approach to develop Top Performer Profiles™ which are used to pre-select future top performers for any position in any company - the new Science of Employment Pre-selection™.
His speeches, seminars and workshops are unique. Taylor delves deeply into business strategies and tactics and into an understanding and mastery of each person's individual core nature. The combination of these two diverse subjects brings a new level of personal and business mastery within the reach of all participants.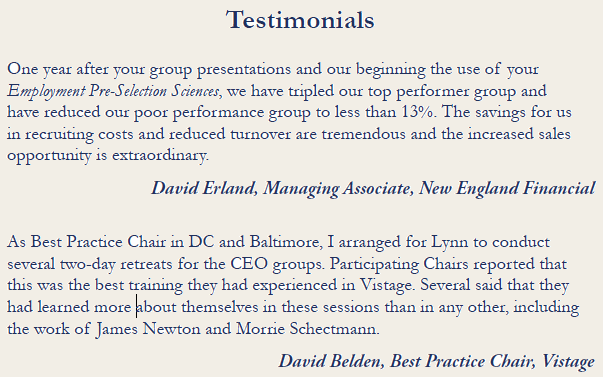 Taylor Protocols, Inc. Client List (Partial)
ALCOA
Merrill Lynch
RBC Dain Rauscher
HOK (world's largest architectural firm)
Weidner Investments
New England Financial
Kvichak Marine
PWI
Prudential Real Estate
Computer Associates
McKenna Engineering
H&AI
Peninsula Oil
Knight Transport
Carlson Logistics
Have questions about Dan Cox: 'The Right Person in the Right Seat'?