About this Event
"All creative things begin with Zero. Situation of no information. If you are free, actually you can find many ways to express your feeling. . . It's much more natural and no repetition. This is the moment we are together with audience in trance. I don't think it's unique….we're doing what all we can in the moment….TOGETHER." - Damo Suzuki
Damo Suzuki is an improvisational artist who performs with a rotating cast of international musicians. This is called ​"Damo Suzuki's Network", and no single performance is rehearsed or premeditated. Damo will be meeting most of his U.S. band members, which he refers to as Sound Carriers, for the very first time. He holds a brief meeting with his band prior to the show and the rest is what he calls "spontaneous magic".
New Orleans Airlift and the Music Box Village are excited to extend their mission by sharing in the process of Sound Carrying collaboration through the suggestion of artists to join Damo and by providing him and his Sound Carriers a unique venue that will open surprising doors to creative possibilities. Expect a once in a lifetime event which will feature members of Bitchin' Bajas, Maria Elena of Special Interest, Sultana Isham and Benni!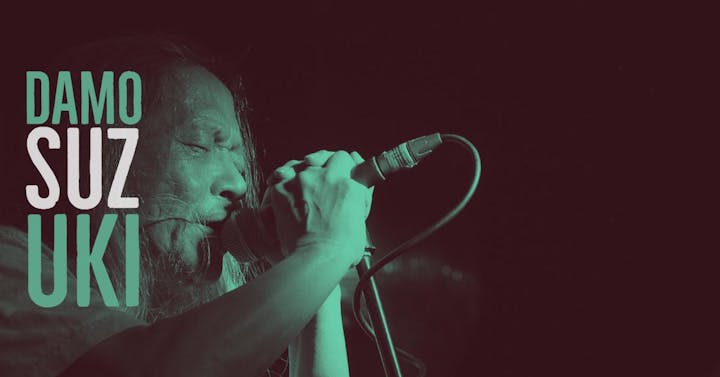 For the uninitiated, Damo Suzuki was the singer for transformative German Krautrock icons Can from 1970 to 1973, recording a number of well-regarded albums such as Tago Mago, Future Days and Ege Bamyasi. His freeform, often improvised lyrics, were sung in no particular language. Praised for their fusion of psychedelic rock, funk, and avant-garde noise, these albums went on to influence members of bands like the Sex Pistols, Jesus & Mary Chain and Radiohead.
"No matter which musical field they belong to. Ages, male or female, Nationality whatsoever. Or long experience as a professional or who've never played since 20 years. For sound making is not that important all those information you are carrying…..most important is ambition which brings positive energy. And we become one unit. Then we can create time and space of the moment."
- Damo Suzuki
ABOUT NEW ORLEANS AIRLIFT & THE MUSIC BOX VILLAGE
New Orleans Airlift is an artist-driven organization established in 2009, whose mission is to collaborate to inspire wonder, connect communities, and foster opportunities through the creation of experimental public artworks. Its flagship project, the Music Box Village, is a permanent installation of "musical architecture" that serves as a one-of-a-kind site for collaboration between New Orleans artists and artists across the world. More than a venue, the Music Box Village is an engine of possibilities, and a mechanism for growth as performers stretch their capabilities through creative residency.
Damo Suzuki's Network In The Music Box Village
Event Date: Saturday, November 2nd, 2019 - One Show Only
Doors: 7:00pm
Event Hours: 7:00PM-10:00PM
General Admission $20 Early / $25 ADV / $30 Door
Advance Tickets and More Info: musicboxvillage.com