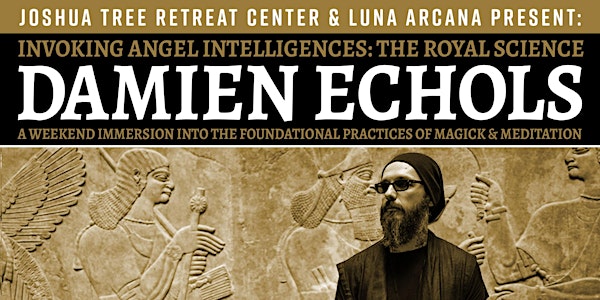 DAMIEN ECHOLS - Invoking Angel Intelligences: The Royal Science
Damien Echols' Invoking Intelligences: The Royal Science, is a weekend immersion into the foundational practices of magick and meditation.
When and where
Location
Joshua Tree Retreat Center 59700 Twentynine Palms Highway Joshua Tree, CA 92252
About this event
Friday Night Talk & Book Signing:
Damien will focus on some biographical material, for the people who are new to his story, but will then dive into what will be covered over the weekend; and all of the ways in which Magick benefits us. He'll give some personal anecdotal stories, and a talk about how we can all use the practice to reclaim Sovereignty over your own life.
Saturday - 10am-5pm
Saturday will begin with learning The Divine Radiant Breath which has four exercises. Next will be Grounding techniques; how to use "the Vacuum" to protect us from toxic and harmful energies, impurities and even sickness.
Sunday - 10am-2pm: Lesser Invoking of the Pentagram
Damien will teach Shielding Exercises that serve to protect from harmful energies, and will finish the retreat with a Self-initiation ritual that will set the course for finishing The Great Work in his lifetime.