Join Skin Care Chef, Dame Sannae of Dame Body Butters + Scrubs for the ultimate immersive natural beauty experience: Blend Your Own Beauty
About this event
Slay your winter skin care goals with the knowledge, tools, inspiration, and personal power to reveal your skin's natural radiant glow!
Join Skin Care Chef, Dame Sannae of Dame Body Butters + Scrubs for the ultimate immersive natural beauty experience: Blend Your Own Dame Beauty.
During this session you will learn about natural ingredients + how to craft organic non toxic body care blends. Dame Sannae will go through her best natural beauty + wellness practices, along with her 4-Step Dame Method for soft, smooth, glowing skin.
You will Blend Your Own
Hydrating Castile Body Wash
Resurfacing Body Scrub 
Nourishing Body Oil 
Replenishing Herbal Bath Tea
This workshop teaches you basic natural beauty blending skills so you will have alternatives to conventional "beauty" products that contain harmful synthetic + toxic ingredients, many disguised as helpful agents of vitality. Through the experience of smelling, touching, and blending different plant ingredients together with my guided natural beauty recipes, you'll become more aware of how plant life can support healthy glowing skin.
Enjoy a fun morning relaxing + blending in an urban oasis, Goddess Gifts Studio, learning how to make naturally inspired + rejuvenating body care blends with fresh botanicals + fruit peels + skin nourishing oils + mineral salts.
The class will include an introduction to the basics of the benefits + healing properties of various herbs, and will also include beautiful heaping 16 oz muslin tea bag of bath salts along with a 4 oz jar of body scrub infused with aromatic essential oils and plant exfoliants, and skin nourishing body oil with vitamin rich oils!
Along with crafting your customized collection, you'll learn about the 4-Step Dame Glowing Skin Method of cleansing, exfoliating, soaking, and moisturizing to help you reveal your skin's hidden radiant glow and de-stress naturally!
You will be relaxing + enjoying your blends in a nice hot bath when you get home!
Space is limited to 12 participants.
Workshop includes blending supplies + materials + take home products, giveaways, and light snacks.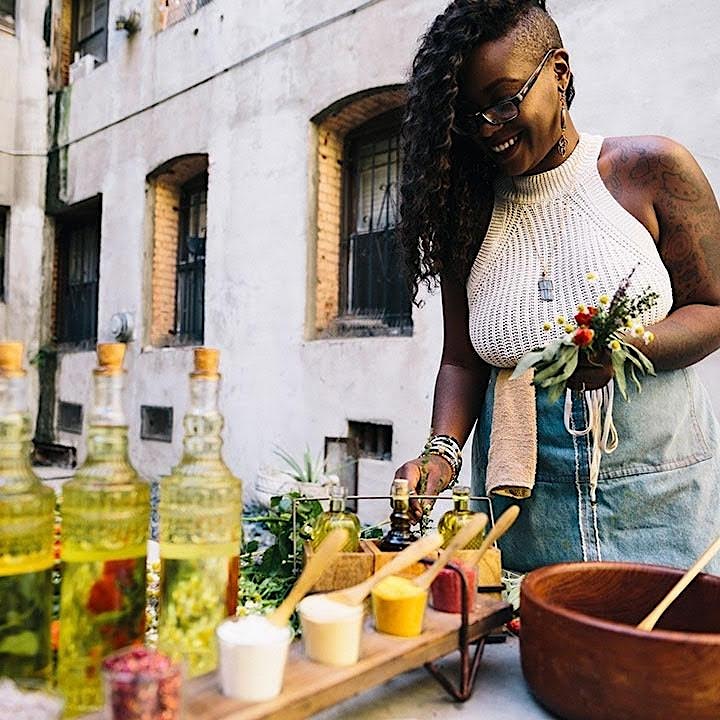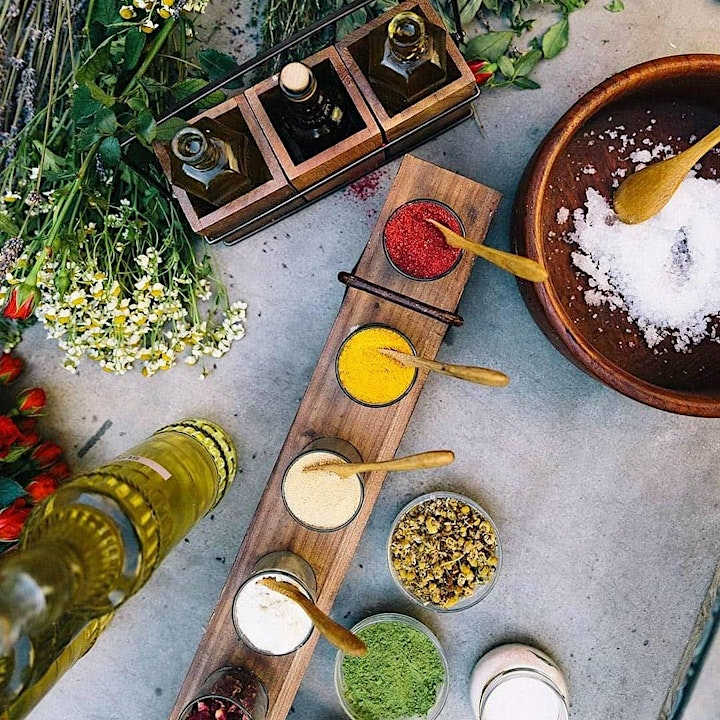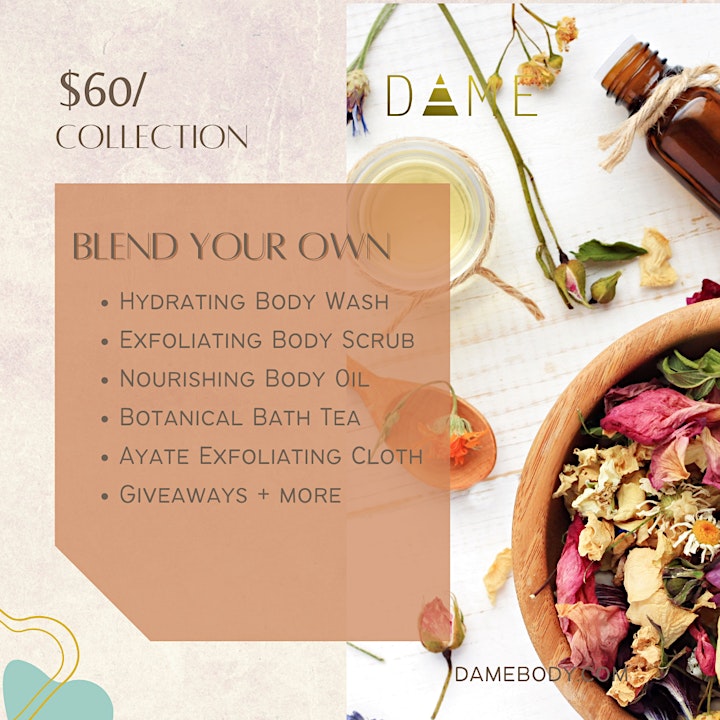 Organizer of Dame Beauty Class: BYO Blend Your Own Body Care