Location
Ashmore Law Firm
3636 Maple Ave
Dallas, TX 75219
Description
Dallas Writers University
A One Day Intensive Symposium
(Only 30 Seats Available)

Featured Speakers
MacGregor Literary Agency - the #1 literary agency in the US according to Publishers Weekly, Publishers Market and the AAR (Association of Authors Representiative) Chip and his team represent some of the top authors in the AB and CBA market. - Macgregorliteraryagency.com

Chip MacGregor is the president of MacGregor LIterary, Inc., a full-service literary agency that works in both CBA as well as the general market. Chip has been working in the publishing industry for three decades, and made his living as a freelance writer and editor for several years. He is the author of numerous books, including a couple of bestselling nonfiction titles, and formerly served as a publisher with Time-Warner. He began working as an agent fifteen years ago, and has represented hundreds of titles, including numerous award winners and bestsellers, and one title that hit #1 on the New York Times bestseller list. Seven years ago he began his own literary agency, and over the past five years has been one of the busiest literary agents in the United States. He works with both fiction and nonfiction titles, but the majority of the business he is currently doing is fiction. A well-known speaker at writing conferences and via online writing sites, he lives on the Oregon coast.
Bella Publishing - Godcrazywithmichelleborquez.com, Godcrazy.org, Bellawomennetwork.tv (launching 2013)

In 2005 Michelle Hosted and Co-Produced I-Life Television's SHINE with Michelle Borquez on INSP and is Creator, Producer, and Host of a new 8 week DVD series for women," Live Again" After Divorce" releasing in June 2013 with Aspire Publishing. Michelle also the national spokesperson for Beth Moore's "Loving Well" Television Special and "GLO" Bible, has authored several books, "Live Laugh Love Again," "God Crazy" and "Overcoming the Seven Deadly Emotions" with Harvest House. She has several new book releases in 2013, "Forever God Crazy," "God Crazy Freedom", and the "God Crazy Freedom Series" releasing in stores nationwide April, 2013 in conjunction with the national "God Crazy Freedom" speaking tour. Michelle has hosted and been a featured guest on hundreds of television and radio programs, including; NBC's Midday Connection, The 700 Club, Life Today with James and Betty Robinson, Postively Texas, TBN, just to name a few.

In 1999 Michelle founded Shine, a general interest women's publication highlighting articles on fashion, travel and health. As Editor-in-Chief she interviewed well known leaders, such as First Lady Laura Bush, Anne Graham Lotz, Michael W. Smith, Kurt Warner, Chuck and Gena Norris, Beth Moore, and more. Shine published 9 years with over 40,000 subscribers.

Michelle Borquez Thornton co-owner of shopbellastyle.com and Bellawomennetwork.com, is a visionary, entrepreneur, business and media communications expert, with 15 plus years experience in publishing, business development, media production; producing, directing, writing, and on camera training. She is a results oriented person with excellent multi-tasking ability, organization and team building skills.

Michelle lives with Husband/Author Michael Thornton and four children, Joshua 20, Aaron 19, Madison, 17, and Jacob 15, in Nashville.

Specialties: Publishing, Television, Marketing, Radio, Writing, Coaching, Communications and Social Media
Wynn-Wynn Media
Wynn-Wynn Media was formed in 2001 by Jeane Wynn and her husband Tyson. Jeane began in publishing in 1989, working in sales at NavPress. She was soon promoted to a team that developed and launched Clarity magazine, while also doing marketing work for Discipleship Journal and Current Thoughts & Trends.
Since then, Jeane has worked in various positions in publishing, which have given her a well-rounded view of the industry, which is essential as she navigates the ever-changing world of publicity. Before starting Wynn-Wynn Media, she hired and worked with a number of publicists in her capacity as a marketing manager.
Wynn-Wynn Media thrives due to a combination of Jeane's love of good books, her personal care and attention to the authors who create them, and her understanding of all aspects of publishing, from acquisition to editorial to sales to marketing. Wynn-Wynn Media is a full-service publicity firm, and the Wynns work with the entire spectrum of media, including print and electronic publications, television and radio broadcasts, podcasts and live online radio, websites and blogs, social media such as Facebook and Twitter, and other emerging media tools to ensure the best and most opportunities for their clients.
Some of Wynn-Wynn Media's campaigns have seen clients recognized on the New York Times, USA Today, ECPA, CBA, and Christian Retailing best-seller lists.
At Wynn-Wynn Media, we strive to for integrity, creativity, deliberation, and consistency every day for every client.
Jeane holds a Bachelor's degree in Radio-TV Sales & Management from Oklahoma State University. She and her husband and business partner Tyson Wynn live in their childhood hometown, where they run Wynn-Wynn Media from a vintage storefront on Main Street.
Ashmore Law Firm

Gary Ashmore is the managing attorney and oversees all the operations of the firm. His background is in General Civil Litigation, Probate, Ancillary Probate, Guardianships, Family Law, Real Estate and Business Litigation. He has served as Court appointed Attorney Ad Litem on numerous cases, as well as Guardian Ad Litem. Mr. Ashmore manages over several hundred Ancillary Probate cases and works with clients and attorneys throughout the United States. http://www.ashmorelaw.com/bio/gary-ashmore.cfm
Mrs. Lori Ashmore Peters was admitted to practice in Texas in 1996. Her background is in Probate, Ancillary Probate, Estate Planning, Guardianships and Mental Health Law. She has been certified to serve as Attorney Ad Litem and Guardian Ad Litem in the Probate Courts in Texas. She has served as Court appointed Attorney Ad Litem on numerous cases, as well as Guardian and Guardian Ad Litem. She works with litigation law firms as a probate consultant and speaks with litigation attorneys regarding the necessity for probate, ancillary probate and possible estate planning as it relates to lawsuits. She also works with many attorneys and Judges throughout Texas and the United States.

Lori also dedicates a portion of her practice to working with mentally ill individuals. She serves as special probate judge for Probate Court No. 3, Dallas County and serves as Court-appointed attorney on Mental Illness cases. She has also served as Master over Probable Cause Hearings. Additionally, she represents families in obtaining Mental Illness Warrants to protect loved ones who may be a danger to themselves or to others, as well as representing family members in obtaining a guardianship over a loved one who suffers from a mental illness.
Both Gary and Lori Ashmore, have numerous published literature to include, books, articles and blogs.

One Day Intensive Agenda
Chip MacGregor

9:00 - 10:30 Finding the Pulse - Discovering the heartbeat of your core message/ Creating your long term publishing strategy.
10:30 - 11 Chip MacGregor, Michelle Borquez Q & A (Concept Development)
Lunch Provided

12- 1 Lunch with the Speakers
Chip MacGregor

1-2 How to submit a Proposal/Secrets to the Publishing World
2-2:30 Proposal Q and A Chip MacGregor, Michelle Borquez

My Book is Finished. Now What?

2:30 - 3:15 - Marketing, Social Media and Building a Platform around Your Concept - Michelle Borquez
3:15- 4:15 Essential Publicity - Why do I need a publicist and what questions do I need to ask to find a good one? - Wynn-Wynn Media, Jeane Wynn

4:15 - 4:45 Legally Exposed - Why do I need a lawyer to review contracts and what are the red flags of publising? Ashmore Law Firm - Gary and Lori Ashmore

4:45 - 5:30 Q & A - All Speakers

"I thoroughly enjoyed the content and focus of the Writer's Conference! Having one-on-one access to speakers during breaks was powerful. The intimate format was my favorite part—which makes this conference unique and something I'd be excited to attend again. Bravo to the organizers—don't change a thing." ~Toni Birdsong, author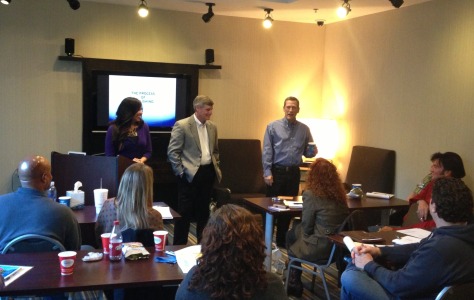 Only 30 Seats Available

We will be accepting/reviewing proposals that will be responded to within 45 days of the conference.