Dallas, TX—Performance Paleo & Frugal Paleo Cookbook Signing with Mini-Semi...
Location
Barnes & Noble—Lincoln Park
7700 W NW Hwy
#300
Dallas, TX 75225
Description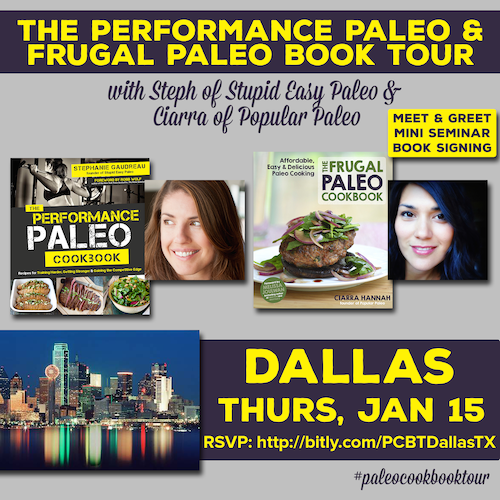 RSVP now for Dallas, TX
Join us in Dallas at Barnes & Noble—Lincoln Park on Thursday, January 15, 2015 for the fifth stop on our Paleo Cookbook Tour!
Appearing will be:
Steph Gaudreau, author of The Performance Paleo Cookbook and the best-selling The Paleo Athlete, certified holistic nutrition practitioner, athlete, and creator of StupidEasyPaleo.com.
Ciarra Hannah, author of the best-seller The Frugal Paleo Cookbook and creator of PopularPaleo.com.
Join us for a fun and relaxed event!
We'll be holding a mini-seminar complete with our best practical tips and tricks for putting our cookbooks to good use in your kitchen. Our goal is for you to walk away feeling confident and inspired! After that, we'll have a meet and greet (because selfies are awesome!) and book signing.
Both our books will be available for purchase at the event. Though you may bring books you've bought online or in other stores, it's highly encouraged to purchase one at the store because it helps support our fantastic hosts.
Make sure to RSVP and we'll see you there!