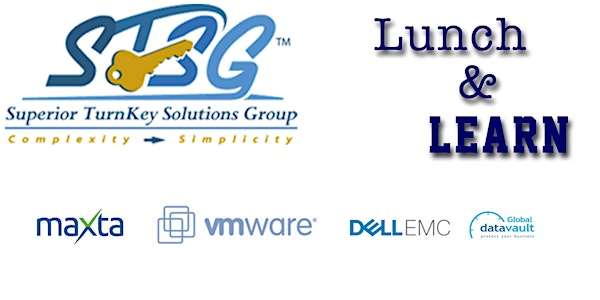 Dallas STSG Lunch & Learn - Hyperconverge your VMWare & Dell EMC server/sto...
Location
Pappadeaux Seafood Kitchen
1304 East Copeland Road
(I-30 and Ballpark Way)
Arlington, TX 76011
Description
Hyperconverge your Advanced Virtualization Luncheon and Learn Seminar
IT consolidation via
Hyper-Converged technologies
has helped deliver greater efficiency and simpler infrastructure. IT organizations are now looking to extend the benefits of virtualization to create greater business value and agility for business-critical applications, desktops & VDI in considering hybrid cloud-based and
Hyper-Converged
infrastructures.
Attend this seminar to learn:
Maxta's

storage software dramatically simplifies IT management and provides significant cost savings over traditional storage arrays. The Maxta Storage Platform (MxSP) provides organizations the choice to add hyper-converge on any x86 server, the choice of hypervisor, and the flexibility to support any combination of storage devices eliminating the need for complex and expensive NAS and SAN device options.

VMware

vSphere and other virtualization solutions can provide efficiency, automation, achieving consolidation ratios of 10:1 and improve hardware utilization from 10-20% today to over 60% with Virtualization of your servers.

How

Dell EMC

Enterprise servers, networking & storage provide the most cost effective option to consolidate and securely provision your data and applications. Dell has a range of servers, and storage SANs/NASs to fully deploy Virtualization. Further, with the VMware's vSphere 6.7, the complete virtualization tools 9olto address your Hyper-converged plans saving budgets and lowering staffing requirements.

Veeam & Global Data Vault's Back-up

cloud solution

software

unifies

backup and replication

in a single solution, for data protection in VMware &

Hyper-v farms to allow for a secondary cloud hot-site for applications and data immediately to be spun-up to support your users' access. And with Veeam Availability Suite, your staff can easily manage both VMware & Hyper-V farms support for resource planning tools to improve operations and ROI impact.