Dallas Pet Tech™ Pet CPR & First Aid Instructor Training
Description
Pet Tech® Instructor Trainings
Email Beth today for all the details
The Pet Tech® Instructor Training is a comprehensive, three-day, interactive program. Instructors will learn the necessary skills and teaching methods to properly train pet owners in Pet CPR, First Aid and Care For Your Pets!
This course will include the PetSaver™ Seminar to ensure competent training in the identification and evaluation of the signs and symptoms a pet may develop and the appropriate actions to be taken for proper emergency medical treatment.
---
Who Are Our Instructors?
The Instructor Training is ideal for: obedience trainers, kennel operators, pet retailers, pet sitters, veterinarian staff, animal shelter employees, pet rescue personnel, pet groomers, EMT's, fire fighters, and any pet lover.
"Pet Tech is a vital part of my dog training business. It has been a vehicle which has increased my access to pet shelters and Humane Societies in my area. The first aid program has become part of the offered training to the staff of more than one of these shelters as a fund raiser, even being included in the curricula for a dog trainers academy. I think all dog trainers should have first aid training to provide for their students." - Lisa Clifton-Bumpass, Pawsitive Steps Dog Training
What's The Market?
Pet owners consider their pets to be their best friends, members of their family and lifelong companions. There are over 120 million pet owners in the United States. Annually, they spend over 63 billion dollars on their pets. There is a tremendous need for training in pet first aid and care because unfortunately, thousands of pets are injured every year from preventable accidents! Pet owners would do just about anything to help their pet, if they knew how. Pet Tech Instructors help fulfill this need by offering the following classes: CPR, First Aid & Care for Your Pets™, Caring For Your Senior "Pet-izen"™, Dental Care For Your Pets™ and PetSaver.™
Why Join The Pet Tech® Team?
Pet Tech supports its instructors with marketing strategies, advertising materials, public relations and a student referral program. As a qualified Pet Tech® instructor, you can fulfill an important need for pet owners and increase your revenues as well as the following: Increase the success of your business, Attract new clients, Be part of a fun and exciting industry and Offer additional services to existing clients.
Our Instructor Training Classes
The Pet Tech® Instructor Program is limited to 8 students in order to maintain the quality and personalized training.

Check out what your becoming a Pet Tech® Instructor gets you...
Your investment of $1795 includes …
10-Day Online Teaching Technique Course
3-Day Live Skill, Training & Marketing Training Certification
Your Business Listed on the Pet Tech Instructor Directory Web Site
You will be listed with other Pet Tech® Instructors
$120
On-going Teaching Support
Thom Somes, "The Pet Safety Guy will consult and work with you over the phone and by e-mail to assist you with being the best Pet Tech® Instructor you can be!
Priceless!
On-going Marketing Support
Cindy Buzas, VP Sales & Marketing will work with you in putting together your Marketing Plan.
Priceless!
TOTAL VALUE: Over $2400
The 10-Day Online Course, 3-day training include a Extensive Discount Special Pricing on all supplies,
the listing on the Pet Tech® web site, and on-going Marketing & Teaching Support an incredible $2400 value!
AND you are getting all THAT for $1795!
Our classes fill quickly because the Instructor class size is limited to 8 students.
3-Day Pet Tech® Instructor Training Agenda
Day 1
PetSaver™ Training & Day 1 of the Instructor Class

After Class: Instructor Candidate Pow-Wow with Thom & Beth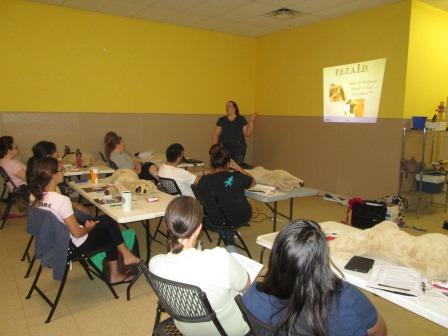 Day 2
Marketing & Promoting Yourself & the Pet Tech® Family of Programs

Product Information, Instructor & Administrative Requirements

Teaching Techniques, Lecture Presentation and Course Organization

Team Teaching & Corrective Coaching Exercise

Day 3
Skill/Lecture Presentations

Picture Day & Pet Tech® Chat!!

Homework Assignments Due

Extemporaneous

Graduation

Please anticipate scheduling approximately 6-10 hours outside the classroom on your skill/lecture presentations.
PetSaver™ Training Materials
Every Instructor student you teach the Pet First Aid & CPR Program to will receive the following:
*PetSaver™ Student Packet Contents:
40 Page PetSaver™ Handbook:
Full Color Cover,
Grayscale Interior,
Over 130 Photos & Graphics
Cardstock: Color Certificate, Wallet Card & Emergency Contacts
PetSaver™ Course Evaluation
Pet Tech® Flyer
All of the above Professionally Presented
There is an annual Pet Tech® Licensee fee of $175 that is due before class.