Live Event: Discover church software that will help you grow your ministry.
About this event

Live Event: Discover church software that will help you grow your ministry.
By attending the Ministry Management Workshop you'll have the opportunity to see up-close the tools that over 35,000 other churches and non-profit organizations are using to grow their ministries while being better stewards of their resources.
Video Overview
Watch a 2 minute overview of some of the tools and tips your ministry can learn by attending this workshop by playing the video here.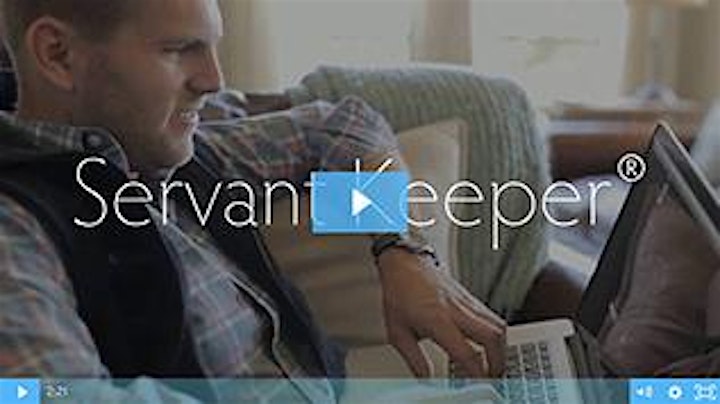 Who Should Attend?
If you currently use a church management system or are thinking of implementing one then you will want to be at this event.
This event, attended by tens of thousands of church leaders across the country, is beneficial for:
Pastors — Free up time spent managing processes.
Learn how other pastors are equipping their ministry teams to grow and serve. Plus, enhance your own pastoral ministry with apps that allow you to manage contact records on the go, enter confidential notes, and communicate with other ministry leaders and members.
Treasurers — Increase accuracy, communication, and giving.
Increasing communication with your donors is a major step in increasing their giving, as well as their joy in giving. Discover tools to help you simplify communications, reporting, and your weekly entry processes. In addition you'll learn how to run more successful campaigns by tracking pledges and even setting up online giving.
Administrators & Ministry Team Leaders — Organize, simplify, and get more done.
Equip your church and ministry teams to serve. You'll learn how to create a stronger team and be able to build better relationships with other members, visitors, and your community. Discover tools that will help you to easily do bulk mailings and mass communication via email and texts. Keep an online directory that is easily managed by your members. Track attendance and manage your events and volunteers, and more.
What to Expect and What will be Covered
A professional demonstrator takes you step by step through the entire Servant Keeper program, showing you exactly how you can better manage your ministry. Attendees learn how to:
Save time and manage ministry growth.
Get your team working on the "same page."
Build and maintain more ministry relationships.
Easily manage and track attendance.
Do bulk mailings and mass email communication.
Let your members manage their own information online.
Manage ministry on the go, from anywhere.
Turn donors into regular, cheerful givers.
Easily manage and track pledges and campaigns.
Let up online giving with CC, Debit, and/or EFT.
More effectively communicate with donors, members, and visitors.
What Others are Saying About the Ministry Management Workshop
Tens of thousands of ministry leaders have attended this event. See what just a few of them had to say:
"Every ministry team needs to see this!"
"Totally changed how we approach church growth and ministry management!"
"We're a small mobile church with no central office, so affordable cloud services were the answer to our prayers!"
"Our ministry has over 10,000 families. Servant Keeper handles them all beautifully!"
"Our church was growing, but we were struggling to manage that growth. Thanks to your workshop, we have put the right systems in place."
Why Servant Keeper?
"I evaluated five church software programs and Servant Keeper is hands down the best I have ever used!"
Servant Keeper is an award-winning program is used by over 35,000 churches, ministries, and non-profit organizations all over the world to help them effectively manage their resources. If you're currently using, or evaluating church management software, come see how Servant Keeper can provide your ministry with:
Fast data entry and look-up.
A system that is customizable to your ministry.
Dynamic groups with global updating.
Easy attendance tracking and reporting.
Personalized mass communication
e-Statements in seconds.
Mobile apps for tablets and smartphones.
Online church directory with search features.
Both a hosted and cloud option to meet you ministry's needs.
You will watch as your professional demonstrator takes you step by step through the entire program, showing you exactly what Servant Keeper is capable of. You will also see how Servant Keeper integrates with other great software tools that you already own. By the end of this presentation, you will have no doubts about how you can improve the way you run your ministry!
View Additional Resources
Watch a short overview on how Servant Keeper can save time and help you achieve your ministry vision.
Don't just "wish you had it", you can actually make it a reality! Download the event price sheet here so you can come prepared.
BONUS: You will have the opportunity to save hundreds of dollars on software with bundles that you won't be able to get anywhere except at our events. For more information or details on savings contact our friendly events team at 800-773-7570 or events@servantkeeper.com
Organizer of Dallas - Ministry Management Workshop
Helping Thousands of Ministries Grow and Thrive!

FOR WHO: Pastors, administrators, treasurers, church staff, and ministry leaders, register to join us in one of over 50 cities nationwide.

"There is no better way to evaluate church software and technology for ministry than at this live event!"
WHAT: Visitor Follow-up, Small Groups, Communicating with email & text, Attendance, Pledge Campaigns, Online Church Directory, Volunteer Management, Contribution Statements, Online Registration, Child Security, and much more!