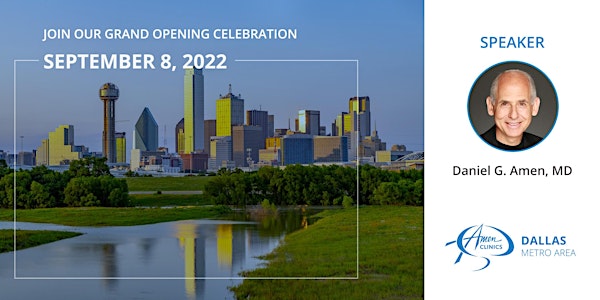 Dallas Grand Opening Celebration
Amen Clinics is thrilled to be part of the Dallas/Fort Worth community. Join us for the in-person celebration of our 9th clinic nationwide!
When and where
Location
Amen Clinics Dallas 7301 State Highway 161 Suite 300 Irving, TX 75039
About this event
Join us for an exciting event where you can meet face-to-face with the founder of Amen Clinics, Daniel G. Amen, MD, our amazing staff, and local practitioners.
Join us for this celebration of Amen Clinics' 9th location nationwide!
This event is FREE to attend! Come, learn, and network.
*Brain-healthy dinner will be provided.
**Attendance is first-come, first-served. We will reach capacity.
SPEAKERS:
Daniel G. Amen, MD, Founder of Amen Clinics, Inc, BrainMD Health, and Amen University
Daniel Amen's mission is end mental illness by creating a revolution in brain health. Dr. Amen is a physician, adult and child psychiatrist, and founder of Amen Clinics with 10 locations across the U.S. Amen Clinics has the world's largest database of brain scans for psychiatry totaling more than 200,000 SPECT scans on patients from 155 countries. He is the founder of BrainMD, a fast growing, science-based nutraceutical company, and Amen University, which has trained thousands of medical and mental health professionals on the methods he has developed. In addition, he has produced 16 national public television shows about the brain and his online videos on brain and mental health have been viewed over 300 million times. Dr. Amen is a 12-time New York Times bestselling author, including Change Your Brain, Change Your Life, The End of Mental Illness, Healing ADD and many more. You, Happier was published March 2022, also now a national bestseller.
Event Organizers:
Krystle Meyer, Clinic Director