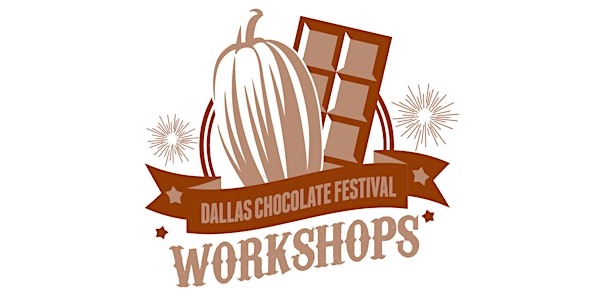 Dallas Chocolate Workshops 2017
When and where
Location
Design District Kitchen 1025 N Stemmons Fwy Suite 600 Dallas, TX 75207
Description
Inspired by the Dallas Chocolate Festival? Looking to take your love of chocolate to the next level? Join us for a quartet of hands-on chocolate workshops and have fun learning with professional instruction. All workshops take place at a spacious commissary kitchen in the Design District of Dallas. These are serious classes in a serious kitchen, taught by working chefs, but will be fun and suitable for all skill levels.
The Bean-to-Bar Chocolate Making Workshop from 9:30 am until 11:30 am will be taught by an amazing group of American chocolate makers: Ben Rasmussen of Potomac Chocolate, Bob Williamson of Austin's SRSLY Chocolate, and Rob Anderson of Washington's Fresco Chocolate. And who knows who else will stop by...
The Baking with Fine Chocolate Workshop from noon until 2:00 pm will be a hands-on class that will teach you how to make great chocolate creations at home. It's taught by pastry chef extraordinaire Zach Townsend of Dallas Chocolate Classes. You will take home what you prepare.
Tasting Chocolate Through History from 2:30 pm until 4:15 pm will be led by Carla D. Martin, PhD. Carla is the Founder and Executive Director of the Fine Cacao and Chocolate Institute and a Lecturer in the Department of African and African American Studies at Harvard University. She will present a talk about and tasting of chocolate as it has evolved through history from fruit to meso-american drink to artisinal craft chocolate.
Learn to taste and appreciate chocolate like a pro at Tasting Chocolate Like a Judge: the Best of the Best from 4:30 pm until 6:15 pm. Could someone really taste 400 chocolates in 3 days? Find out this and more with Madame Cocoa (Adrienne Newman) as you experience what it's like to be a judge in an international awards competition. No need to be a professional taster! From palate calibration to aroma to evaluation of the ideal mouthfeel, you'll go on a whirlwind journey of taste sampling MANY caramels, bonbons, and Adrienne's favorite category, plain dark bars. If you are a chef, baker, foodie, committed chocoholic, or just want to taste more chocolate than you ever have before, do the grading yourself and you be the judge!
You know Adrienne as the host and emcee of the Dallas Chocolate Festival each year. Since 2003 she has been a force in the fine chocolate industry, supporting initiatives and business leaders around the world who are committed to making chocolate at its best. Adrienne judges in the Americas/Asia and World Final competitions of the International Chocolate Awards in London and New York. She's taught chocolate classes at the University of Texas in Austin, Chautauqua Institution in NY, and of course at our very own festival. In real life, Adrienne supports her chocolate habits as a top real estate agent in Austin (property-go-go.com). Catch more Madame Cocoa classes, food tours, and hosted events @MadameCocoa.
Order tickets for the Dallas Chocolate Festival on Saturday, September 9th too for the complete chocolate experience!
Class fees include instruction and all materials. Sign up for all the classes and save!
For more information see DallasChocolate.org. Participants and workshops are confirmed, but are subject to change. Tickets are non-refundable. Event details are available at: DallasChocolate.org.