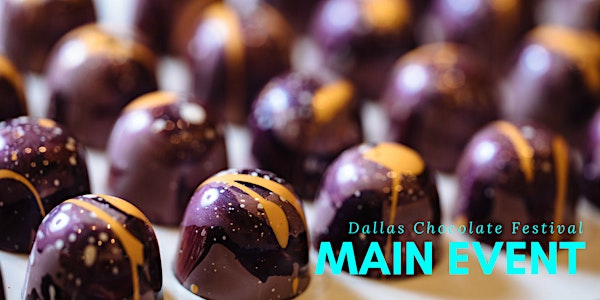 Dallas Chocolate Festival 2018: The Future of Chocolate
When and where
Location
The Fashion Industry Gallery 1807 Ross Ave Dallas, TX 75201
Description
The future is NOW!
The Dallas Chocolate Festival is celebrating the future of chocolate at the F.I.G. in Downtown Dallas.
This is the heart of the Festival. Vendors from around the world come to showcase their delicious treats. Over 60 booths filled with bean-to-bar chocolate, bonbons, truffles, baked goods, and more! Meet the makers and learn what makes their products unique. There will be the opportunity to sample, and if you find something you love, vendors will have products for sale as well. You'll see old favorites and discover new finds!
In order to keep crowd flow even all day, entry tickets to the vendor hall and marketplace are issued on a schedule. Entry times are: 11:00AM, 12:30PM, 2:00PM, and 3:30PM. Guests are welcome to attend the other features of the event all day, but can only enter the vendor hall starting at the entry time on the ticket.
The mission of DallasChocolate.org is to educate chocolate lovers about the the amazing work being done in the chocolate industry, in Dallas and beyond. As our key event each year, we look forward to celebrating all things chocolate to help spread the word.
Confirmed chocolatiers, chocolate makers and chocolate treat makers include:
Chocolate Makers:
LetterPress Chocolate (Los Angeles, CA)
Hoja Verde Chocolate (Quito, Ecuador)
Xocolla Chocolatier Artisan (Sugar Land, TX)
Amano Artisan Chocolate (Orem, UT)
Fresco Chocolate (Lynden, WA)
Guittard Chocolate (Burlingame, CA)
Potomac Chocolate (Woodbridge, VA)
Pacari Chocolate (Quito, Ecuador)
Fruition Chocolate (Shokan, NY)
5 Mile Chocolate (Oak Cliff, TX)
Charm School Chocolate (Baltimore, MD)
Dandelion Chocolate (San Francisco, CA)
Escazú Chocolates (Raleigh, NC)
Markham & Fitz Chocolate (Bentonville, AR)
Chocotenango (Washington, D.C.)
Casa Chocolates (San Antonio, TX)
French Broad Chocolates (Asheville, NC)
K + M Extravirgin Chocolates (Napa, CA)
Raaka Chocolate (Brooklyn, NY)
Cultura Craft Chocolate (Denver, CO)
Amedei Tuscany (Pisa, Italy)
Sublime Chocolate (Allen, TX)

Also included with a ticket purchase is a full day of classes and demonstrations that take place within the FIG. The instructional events kick off at 11:00 a.m. The class offerings will be great fun for beginners as well as dedicated chocolate fanatics. While all classes are included with a ticket purchase, space is limited and seating will be on a first come, first seated basis. Class schedules can be found at DallasChocolate.org.
There will be food trucks parked nearby the FIG for the convenience of Festival attendees who wish to purchase food and drink.
Limited tickets will be sold at the event.

---
Don't miss the Dallas Chocolate Festival VIP Party on Friday, September 7th!
To take your chocolate adventure further, check out our hands-on Chocolate Workshops on Sunday, September 9th.
---
The Dallas Chocolate Festival is sponsored by: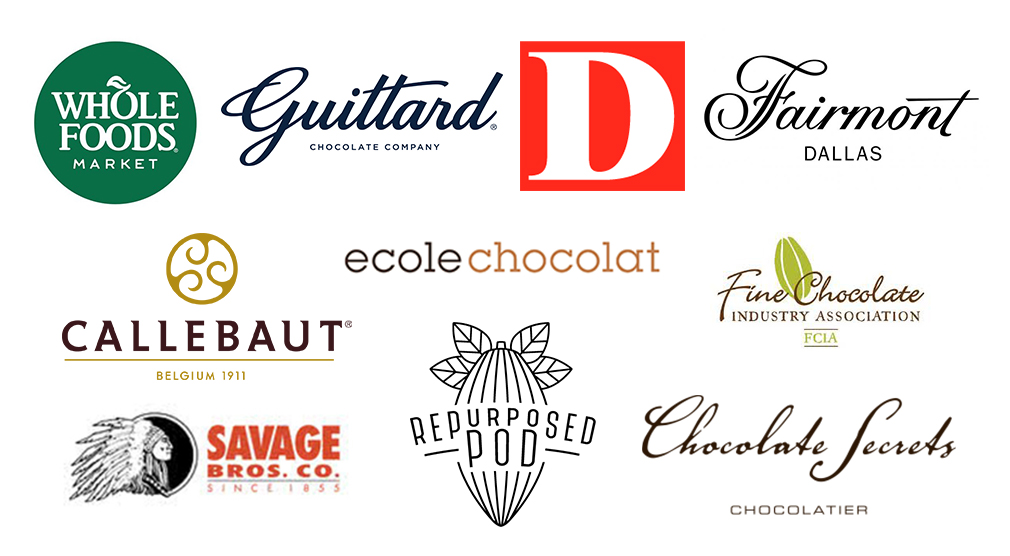 Participants, vendors, and classes are confirmed, but are subject to change. Tickets are non-refundable. Event details are available at: DallasChocolate.org.