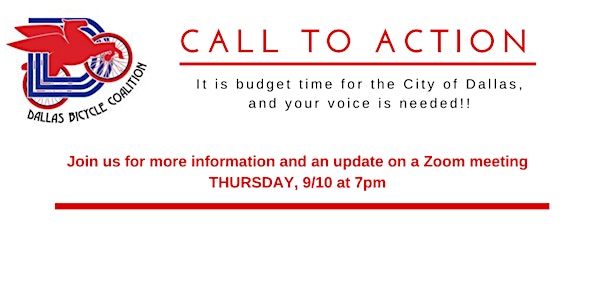 Dallas Bicycle Coalition Call To Action Meeting: FY2020/21 Dallas Budget
Your voice is needed!! It is budget season again at the City of Dallas, and they are proposing a cut in funding for bike infrastructure.
About this event
At the 90% mark of the 10-year 2011 Bike Plan, the City has completed less than 15% of the project. 8 years into the Plan, we finally saw an increase in funding, from $500k to $1M, with a recommendation from the City Manager that it incease to $2M by the FY2020/21 budget cycle. No increase was made in the FY2019/20 cycle, and this year they are proposing a CUT back to $500k, and we need make our voices heard on this.
While we understand that budgets are tight, with so many more people out riding their bikes, and the very real need for bikes as an alternative mode of transportation during the time of COVID & social unrest, now is the time for the City to truly INVEST in making biking safer and more accessible for all.
Join us for this second Call To Action meeting to learn how our efforts are going, and how we can continue to put pressure on the City to fund this needed item.