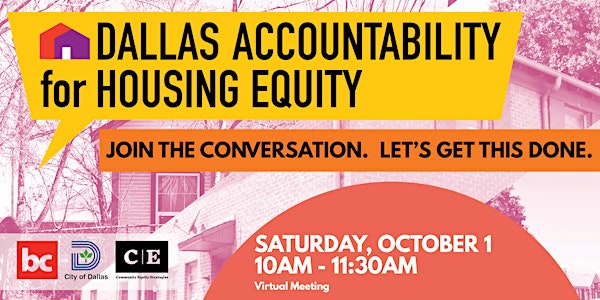 Dallas Accountability for Housing Equity: Virtual Community Conversation #6
Be apart of shaping the future of housing in Dallas. Join us in a city-wide conversation about building housing accountability and equity.
About this event
The Dallas Accountability for Housing Equity is an effort to build a framework of accountability and transparency within the process of housing delivery and policy in our City
We will have an open discussion about what accountability in housing means, how it can be achieved, and who should be involved. We will also evaluate Dallas' past housing goals.
Your input and feedback will help build a structure of transparency that will guide future housing goals, drive adjustments to existing housing programs and initiatives, and ensure that the delivery of housing is equitable for every person in Dallas.
Join buildingcommunityWORKSHOP, Community Equity Strategies, the City of Dallas, and other Dallas residents Saturday, October 1 in co-creating an Accountability Plan. Together we will help ensure housing equity in Dallas.
Follow the link below to find a schedule of future in person and virtual community meetings, learn about key takeaways from other meetings, and follow along as we work together towards a more equitable Dallas.
Click to learn more about Dallas Accountability for Housing Equity.
Schedule of all Dallas Accountability for Housing Equity Community Conversations:
September 20, 6PM - 7:30PM: Singing Hills Recreation Center
September 22, 6PM - 7:30PM: Martin Weiss Recreation Center
September 24, 12:30PM - 2PM: Vickery Park Library
September 27, 6PM - 7:30PM: Larry Johnson Recreation Center
September 29, 6PM - 7:30PM: Walnut Hill Recreation Center
October 1, 10AM - 11:30AM: Virtual Meeting
October 4, 6:30PM - 8PM: Virtual Meeting
Acerca de este evento
Responsabilidad de Dallas para la Equidad de Vivienda es un esfuerzo por construir un marco de responsabilidad y transparencia dentro del proceso de entrega y política de vivienda en nuestra Ciudad.
Tendremos una discusión abierta sobre lo que significa la rendición de cuentas en materia de vivienda, cómo se puede lograr y quién debe participar. También evaluaremos las metas de vivienda pasadas de Dallas.
Sus aportes y comentarios ayudarán a construir una estructura de transparencia que guiará las futuras metas de vivienda, impulsará ajustes a los programas e iniciativas de vivienda existentes y garantizará que la entrega de vivienda sea equitativa para todas las personas en Dallas.
Únase a buildingcommunityWORKSHOP, Community Equity Strategies, la ciudad de Dallas y otros residentes de Dallas el Sabado, 1 de Octubre en la creación conjunta de un plan de rendición de cuentas. Juntos ayudaremos a garantizar la equidad de vivienda en Dallas.
Siga el enlace a continuación para encontrar un cronograma de futuras reuniones comunitarias en persona y virtuales, conocer los puntos clave de otras reuniones y seguir mientras trabajamos juntos hacia un Dallas más equitativo.
Haga clic para obtener más información sobre la responsabilidad de Dallas por la equidad en la vivienda.
Calendario de todas las reuniones comunitarias de responsabilidad por la equidad en la vivienda de Dallas:
September 20, 6PM - 7:30PM: Singing Hills Centro de Recreacion
September 22, 6PM - 7:30PM: Martin Weiss Centro de Recreacion
September 24, 12:30PM - 2PM: Vickery Park Biblioteca
September 27, 6PM - 7:30PM: Larry Johnson Centro de Recreacion
September 29, 6PM - 7:30PM: Walnut Hill Centro de Recreacion
October 1, 10AM - 11:30AM: Reunión Virtual
October 4, 6:30PM - 8PM: Reunión Virtual