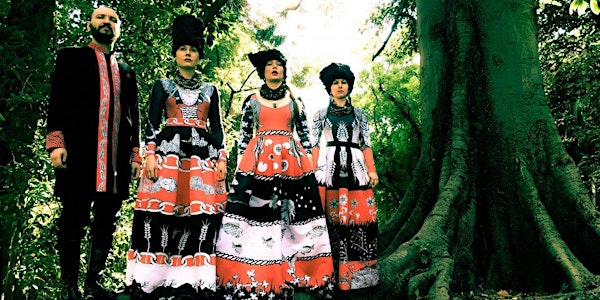 DAKHABRAKHA with Yaima, DJ Darek Mazzone (KEXP)
When and where
Location
Nectar Lounge 412 North 36th Street Seattle, WA 98103
Performers
Headliners
More Performers
Description
Nectar & SolidSound present:
Nectar Lounge
412 N 36th St
BOOTH RESERVATIONS NOW AVAILABLE!
We are a majority standing-area venue with seating on our heated and covered patio as well as our newly remodeled mezzanine. All seating is first come first serve however, we do have eight booths available for reservations on our mezzanine. Booths 1-6 seat two to four people, booth 7 seats five and booth 8 seats six to eight.
All table reservations are now made at checkout.
Booth reservations are sold on a first come first serve basis.

Reserve multiple booths for larger parties and we will seat you together.

See "Additional Items" on the bottom of checkout page for available booths. If you do not see "Additional Items" unfortunately all booths are SOLD OUT.

We try our best to guarantee your reservation all night, though we ask you to arrive within 2 hours after doors open.

We no longer reserve high top tables behind booths but we encourage people to arrive early to claim available space.

We offer food service once doors officially open. See listing above for specific door time.
DAKHABRAKHA
DakhaBrakha is music quartet from Kiev, Ukraine. Reflecting fundamental elements of sound and soul, Ukrainian "ethno chaos" band DakhaBrakha creates a world of unexpected new music.
DakhaBrakha was created in 2004 at the Kyiv Center of Contemporary Art "DAKH" by the avant-garde theatre director – Vladyslav Troitskyi – and given the name that means "give/take" in the old Ukrainian language. Theatre work has left its mark on the band performances – their shows are always staged with a strong visual element.
After experimenting with Ukrainian folk music, the band has added rhythms of the surrounding world into their music, thus creating the bright, unique and unforgettable sound of DakhaBrakha. They strive to help open up the potential of Ukrainian melodies and to bring it to the hearts and consciousness of the younger generation in Ukraine and the rest of the world as well.
Accompanied by Indian, Arabic, African, Russian and Australian traditional instrumentation, the quartet's astonishingly powerful and uncompromising vocal range creates a trans-national sound rooted in Ukrainian culture. At the crossroads of Ukrainian folklore and theatre, their musical spectrum is at first intimate then riotous, plumbing the depths of contemporary roots and rhythms, inspiring "cultural and artistic liberation".
In March 2010, DakhaBrakha won the prestigious Grand Prix prize named after S.Kuriokhin, in the sphere of contemporary art, and confirmed its place in the culture once again. In March 2011 DakhaBrakha was discovered by Australian Womadelaide and began their ascent in the international music scene. They have since played more than 300 concerts and performances and have taken part in major international festivals throughout Eastern and Western Europe, Russia, Asia, Australia, and North America. DakhaBrakha has also collaborated with such international musicians as: Port Mone (By), Kimmo Pohjonen Cluster (Fi), Karl Frierson (DePhazz) (Ge), Steve Cooney (IRL), Inna Zhelannaya (Ru), Kievbass (UA), Djam (UA-Iran), and David Ingibaryan (Hu).