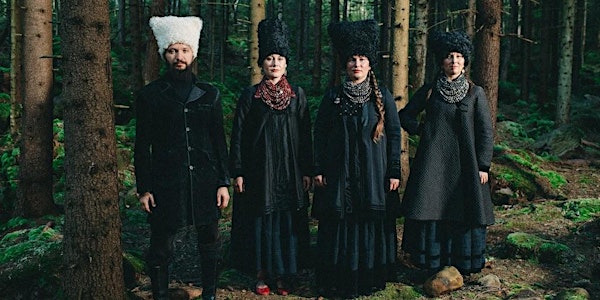 DakhaBrakha
UNDER 18 WITH PARENT OR LEGAL GUARDIAN
Hudson Valley Live and The Colony Present
DakhaBrakha performs at the Colony in Woodstock NY
When and where
Location
Colony 22 Rock City Road Woodstock, NY 12498
About this event
DakhaBrakha from Kyiv, Ukraine creates a world of unexpected sounds and visuals. Self-described as "ambassadors of free Ukraine," their shows are punctuated with cries of "Stop Putin!" and "No war!"
This "Ukrainian-folk-meets-punk group" (NPR) whose name means "give/take" in old Ukrainian, explore a modern take on Ukrainian folk traditions with elements of cabaret, jazz, rock and hip-hop as part of the band's DNA.
Formed in 2004 at the Kyiv Center of Contemporary Art by the avant-garde theatre director Vladyslav Troitskyi, their musical spectrum is at first intimate then riotous, plumbing the depths of contemporary roots and rhythms, inspiring political, cultural and artistic liberation.
Maria Sonevytsky (Ethnomusicologist at Bard College) writes:
"I think one of the most powerful things that DakhaBrakha can offer is that they show both that there is a very rich past in Ukraine, and they show this by bringing together a diversity of musical practices from different regions of Ukraine, from different ethnic groups within Ukraine," Sonevytsky says. "And they fuse them together in a beautiful way that also suggests a future for Ukraine. It gives the lie to Putin's propaganda that Ukraine has no culture or history of its own."