Description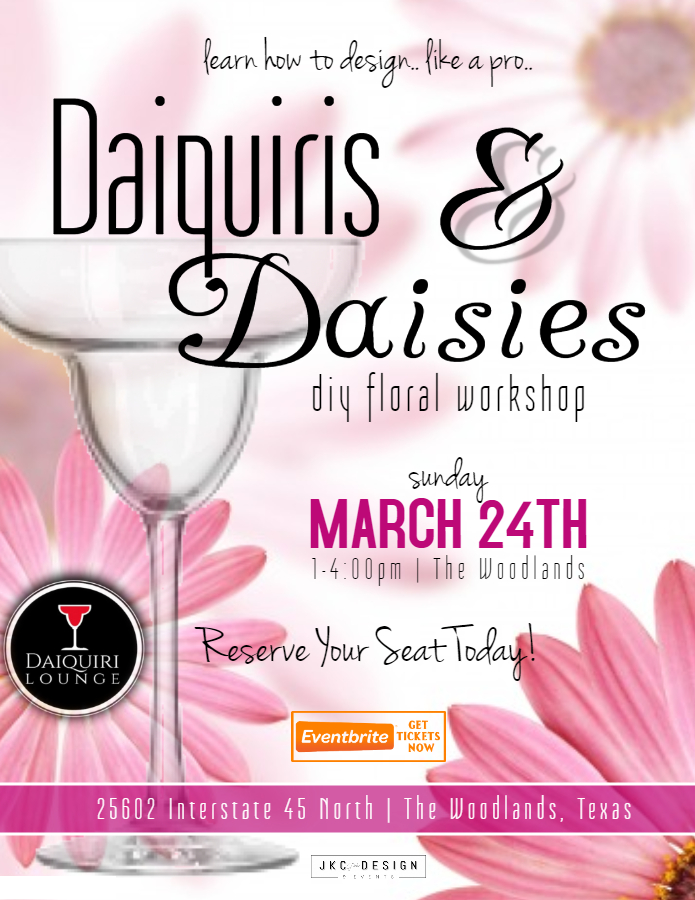 Ever wanted to channel your inner Martha Stewart but just not sure where or how to even begin?
Flower Bar Woodlands brings a new stylish lifestyle and social event for those with creative minds alike - in a comfortable setting where it is okay to embrace the beauty of design, florals and fellowship. We think it's safe to say, we ALL have that inner Martha!
Join our first event, Daiquiris & Daisies on Sunday, March 24th, 2019 in The Woodlands, Texas
Tickets available now on Eventbrite | Reserve your seat today | Limited Seats Available
____________________
FREQUENTLY ASKED QUESTIONS|
WHAT ARE YOUR EVENTS?
Flower Bar Woodlands is an event hosted in The Woodlands and surrounding areas, bringing together men and women together for a new stylish social event, catering to the creative trends in today's floral designs. At our event, each guest will learn how to properly design a beautiful fresh-arrangement, perfect for the entry at home or even show off at work on Monday morning!
At Flower Bar Woodlands, you will experience the lifestyle of a florist, how to design, arrange, and of course sip cocktails!


HOW LONG DOES EACH EVENT LAST?
Each event is scheduled for 2 hours featuring a sip-n-social cocktail hour, beginning thirty minutes prior to the scheduled event time.
WHEN SHOULD I ARRIVE?
We highly recommend and encourage that you arrive ten to thirty minutes before your event begins to check in, and grab a cocktail before the fun begins.. Meet your fellow designers!


WHAT DOES MY TICKET INCLUDE?
Each ticket includes one entry per event - including fresh or silk florals for a medium-sized arrangement, a stylish vase, clippers, aprons, and all other necessary tools to help you create your one-of-a-kind blooming masterpiece. Each ticket includes one signature cocktail for the featured event. Must be 21+ | Drink responsibly
WHAT IF I AM NO LONGER ABLE TO ATTEND MY EVENT?
We do not offer refunds of any kind, however, we are always more than happy to transfer your ticket to another class as long as you contact us at least 48 hours prior to the event. Tickets may be transferred only once per purchase.
In the event the scheduled event is cancelled or postponed, each ticket will be transferred to the next event you desire to attend.
DO YOU HOST PRIVATE PARTIES & WEDDING EVENTS?
Flower Bar Woodlands is available for any occasion, any event, special moment or just because. Of course we book private parties - and yes, we will even host an event at your home! Grab your girlfriends (or boyfriends) and let's start arranging your next event!
For more information, please visit our website at www.jkcdesignandevents.com