Location
The Blue Room + BELLY patios
corner Hampshire and Portland Streets
Cambridge, MA 02139
Description
DAIQUIRI Time-OUT.
The time-out exists in sports and it exists for toddlers, yet everyday life as an adult is free of this meaningful and often necessary act. Thanks to a few of our friends in Boston advocating on behalf of the time-out, we are happy to make not just any time out accessible to you, but give you the daiquiri time-out.
This evening we bring you your last daiquiri-time out, not forever, but for now at Belly. Come back for the cocktail stylings of daiquiri time-out Marquis Andrew Deitz and bartender-about-town Matthew Schrage of Brasstacks Boston. Just as before, the mirage will appear at 7pm on the Belly patio with daiquiris for your time out enjoyment.
Come one, come all. We have a time-out for you.
** Tickets include all the delicious bites + your first DAIQUIRI.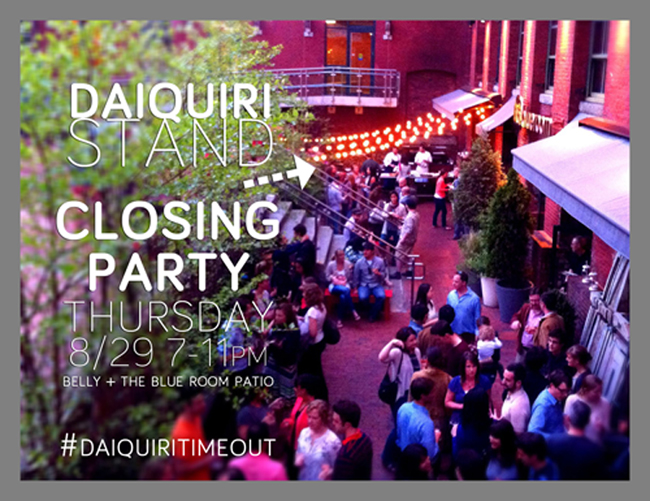 Daiquiri Time-Out Partay | Closing Down the Belly Daiquiri Stand
Serving only Plantation Rums .. up or frozen all evening long ..
Thanks to MS Walker + Pierre Ferrand for their generosity.
commence conversation #DAIQUIRITIMEOUT