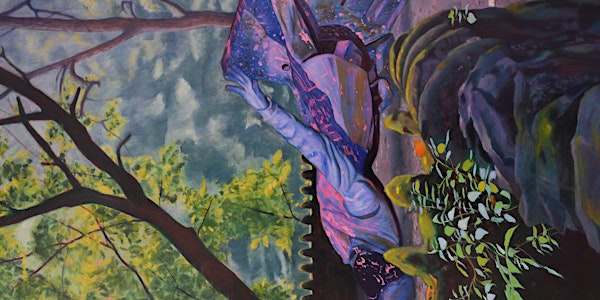 Daina Higgins: Pandemic/Protest
Contemporary Art Matters is pleased to present Daina Higgins: Pandemic/Protest, a solo show featuring new paintings.
When and where
Location
Contemporary Art Matters 243 North 5th Street Columbus, OH 43215
About this event
'A Closer Look' will be held on Thursday, June 17th from 5 -7 pm and the show will be on view through July 15, 2021. For more information on the exhibition, related events please contact us at info@contemporaryartmatters.com.
Daina Higgins' artistic journey began as a graffiti artist, already claiming her space in what is normally a boys club. Her painting evolution morphed from spray paint to oil paint with her attention continually on the American urban landscape. As a chronicler, she photographed her surroundings from Ohio where she grew up to New York where she studied and now Philadelphia where she has settled. This past year Higgins' focus has narrowed to the turbulent events of 2020.
"When George Floyd and Breonna Taylor were killed by police, the world exploded. Thousands came out of isolation to gather in mass demonstrations, many of which were centered around a public monument. Public life in 2020 became a dichotomy of isolation versus mass gathering. When I saw the graffitied Robert E. Lee monument in Richmond, Virginia, I remembered how powerful graffiti art can be at reclaiming spaces."
Unafraid to join the conversation, Higgins is bringing communities out of the shadows. At this point in history the monuments may only be symbols but their existence is a reminder of the systems of oppression for so many. Lone monuments, figures and trees are symbols of isolation. During the Covid-19 shutdown Higgins took many walks in the evening light, reminding her of simpler times. She sees the parallels of our time to the Victorian era that are unmistakable, and it is unnerving to realize that perhaps parts of our society have not advanced much at all. She is a member of the artist collective Toppled Monuments Archive, which records the fallen and removed monuments around the globe.
The paintings in this show explore the solace found in the parks, with a German Romantic feel of Casper David Friedrich. The hazy forest setting and the glow of dusk light are captured in these lush pictures. Higgins memorialized the power of the protests through the graffiti-laden civic monuments. She then created an imaginary landscape with fallen monuments in various positions, juxaposing destruction and beauty.
Originally from Columbus, Daina Higgins graduated from the Fort Hayes High School and attended pre-college programs at The Ohio State University, The School of the Art Institute of Chicago and the Pratt Institute. She received her BFA from the School of Visual Arts in New York in 2001, followed by an MFA from the Queens College CUNY in 2009. Her works have been exhibited in galleries and museums around the country including Rebecca Ibel Gallery, Elizabeth Harris Gallery, The Pizzuti Collection, The Queens Museum of Art and the Woodmere Art Museum in Philadelphia. She was recently awarded an Elizabeth Greenshields Foundation Grant in 2021 (also received in 2019) and was the beneficiary of a Joan Mitchell Foundation MFA grant and the Silas H. Rhodes Merit Scholarship.