Daily Sales Coach - Powered by Winning Sales Habits - A 90-Day Sales Training System for Elite Sales Professionals

Tuesday, January 18, 2011 at 11:00 AM (PST)
Event Details
What will make the difference for you in 2011?...
Will you have more clients in your pipeline?
Will you leverage your time to work on higher-value activities?
Will you have the ability to get your customers "unstuck" and making decisions?
Will you have abundant energy, confidence and resilience?
Will your sales questions really engaged your customers?
Will your sales presentation better differentiated you in the marketplace?
Will you be having FUN?
We'd like to invite you to tap into your true sales potential and train for your sales career in the same way an elite athlete would approach theirs.  By training mentally, emotionally and physically as well as on our sales skills.  If we can get more deliberate and purposeful in our training ... our sales results will follow.
That's why we've created Daily Sales Coach ... a 90-day sales training system that delivers results ... guaranteed!
"Ten of our sales executives and myself attended your training and the response has been very positive.  Your ability to speak to such a diverse group - and still lead us to develop a customized plan of action was appreciated."
-Michael E. Lawson, First Vice President
American Express
Start 2011 Off Strong!
Daily Sales Coach taps into real-world solutions based on over 1200 interviews with top producers and science-based methods to turn these strategies into predictable, repeatable habits.
Imagine if each and every day over the next three months, you had a coach helping you identify your personal plan of action, suggesting resources that will help you succeed and holding you acocuntable for taking action.  That's what Daily Sales Coach is designed to do.
What's Included?
Each week for twelve weeks, we'll break down every aspect of sales performance in hour-long training sessions you can access on your members-only website.  There will be sessions on "Reaching Your Sales Zone" and "Hunting For New Business," "Mastering Sales Communications" and "Leveraging Your Time" ... everything you need to powerboost your sales career.  Any ONE of these sessions can make you thousands in commissions, but they're all included in your membership.
Once a month, you'll be able to participate on "members-only" coaching calls with Peter McLaughlin and Jeffrey Howard.  These interactive sessions will give you valuable feedback and clarity on your training plan.
To reinforce the trainings and keep you on track, you'll get Daily Sales Boosts delivered to your inbox.  These are 2-3 minute multi-media "kicks-in-the-butt" that will inspire, educate and give you actionable steps to use right away.
And, for accountability, you'll have access to the Daily Sales Coach Online Tracking System and members-only forum.  Get clear about your vision and purpose, break it down into goals and tasks, and turn it all into new winning sales habits.  You can coordinate with your calendar, track your progress, print out reports and have the system email you daily with what needs to be accomplished.  You can even ask questions with our coaches and other participants.
"I must have recieved 20 comments on the positive impact you had on our sales professionals and on the way in which they view not only their work life, but also approach their personal life.  Your approach makes implementing your training a sustainable proposition."
-Jedd Parker, General Manager
Xpedx (Div. of Internaltional Paper)
Our Experts!
The Daily Sales Coach program is led by sales trainer Jeffrey Howard and best-selling author Peter McLaughlin along with a faculty of other top experts. 
For example, do you want to differentiate yourself with "Personal Branding?" We'll tap into the expertise of Steve Brazell, President of Hitman, Inc.  He's the founder of the "Competition Removal System" and author of Traditional Marketing is Dead.  He's worked with companies like Walt Disney, Coldwell Banker, CB Richard Ellis as well as individuals like Keyshawn Johnson and Kevin Costner.  Need help in establishing a new workout to increase your energy?  We have Ken Nicodemus, who's created plans for corporate executives, top triathletes and even for NBA teams.  We want to get you everything you need to thrive as a sales professional.
All of this:
Weekly Training Sessions on every aspect of sales performance.
Monthly "Members-only" Coaching Calls.
Daily Sales Boosts delivered to your inbox.
Online Tracking System for accountability.
Additional Resources to dig deeper.
Access to Top Experts.
For just a few dollars a day!
And, best of all, we'll stand behind it with a 100% RESULTS Guarantee.  Not satisfaction ... RESULTS!  If you follow the program (and we'll know if you actually do), you will see a return of ten times your investment or we will refund 100% of your tuition.  We take the risk. 
Training Topics

Identifying Your True Strengths and Weaknesses

Igniting Your Energy

Building Unstoppable Confidence and Optimism

Reach Your Sales Zone

The Science of Decision

Making Your Competition Irrelevant

The Hunt For New Business

Mastering Sales Communications

Leveraging Time

Using Social Media in Sales

Powerful Networking

Creating a Plan of Action! 

 
For more information, call (858) 531-9130 or visit www.dailysalescoach.com.
In Sales Management? Sign-up for our Sales Management Membership and receive the complete program plus our "High Performance Coaching" program and monthly management training calls.
Want even faster results?  Our Premier Membership also includes three, one-on-one coaching calls and an Emergenetics Thinking Preferences Profile and evaluation.
Have questions about Daily Sales Coach - Powered by Winning Sales Habits - A 90-Day Sales Training System for Elite Sales Professionals?
Contact Winning Sales Habits
Organizer
Winning Sales Habits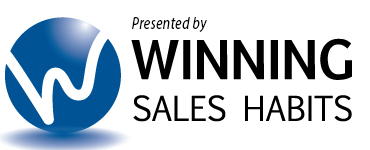 Winning Sales Habits helps individuals and organizations ignite sales performance from the inside out. Founded by sales communications expert Jeffrey Howard and best-selling author Peter McLaughlin, Winning Sales Habits offers keynotes speeches, customized training, a twice a week podcast, Sales Revolution seminars in cities across the U.S., hands-on consulting and our innovative Daily Sales Coach program. Winning Sales Habits teaches the skills and habits necessary to become mentally tough, emotionally resilient, sell more and have more fun than ever before!  Visit www.winningsaleshabits.com for more details.