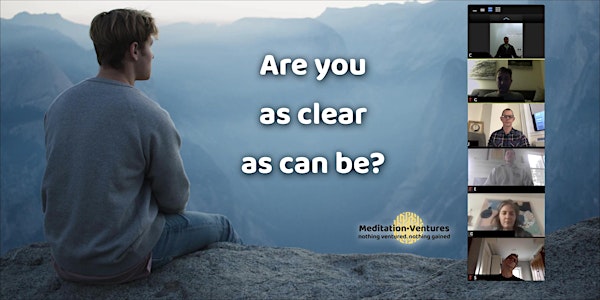 Multiple dates
Daily Meditation for Entrepreneurs+
How clear are you about, well, anything? Join our adventurous group! We create calm, clear, focus, every weekday at 6:45 am ET!
Date and time
July 11, 2022 · 3:45am - December 1 · 4:10am PDT
About this event
Focus your day relaxed and alert with like-minded innovators creating impact in the world today! Every non-holiday weekday at 6:45 am ET!
GATHER | Meet your fellow entrepreneurs from around the world at 6:45 am Eastern Time.
CALM | At 6:50 am, join in a 10-minute guided meditation, to focus and refresh.
EMBARK | At 7 am, debrief together and embark on your awesome day!
About the organizer
Meditation•Ventures provides support to all those journeying to help make their lives and the lives of others better. The organization grew out of a request to provide some mindfulness guidance for startup entrepreneurs who would be stuck at home during the "brief" lockdown to protect against Covid-19 in March of 2020. Approaching our third anniversary in 2023, we are expanding outreach to all those seeking deeper, more substantive guidance that can only be accessed by regular, supported, assistance that is integrated with every day life, economics, business, ethics and, actually, all things. Join us for our baseline weekday sits for free or start to engage in some of our other expanding list of offerings. Sit. Breathe. Life is rich. Nothing ventured. Nothing gained.