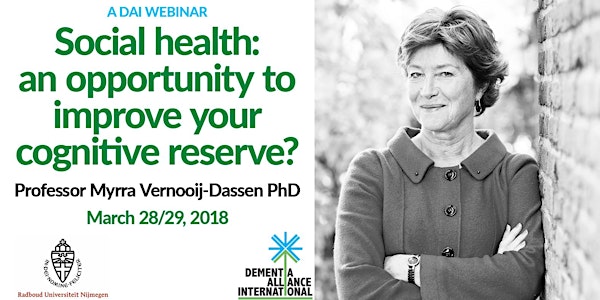 DAI Webinar: "Social health: an opportunity to improve your cognitive reserve?" March 28/29, 2018
Description
DAI "A Meeting Of The Minds" Webinar, March 28/29, 2018
Presenter: Professor

Myrra Vernooij-Dassen
Topic: "

Social health: an opportunity to improve your cognitive reserve?

"

---


Wednesday, March 28, 2018 (USA/CA/UK/EU)

Thursday, March 29, 2018 (AU/NZ/JP/SGP/TWN)
Please note: this is one event, set in a number of different time zones.
---
About Professor Vernooij-Dassen: Professor Myrra Vernooij-Dassen has been trained as medical sociologist and was director of the Radboud Alzheimer Centre. She is affiliated to Radboud University Medical Centre in Nijmegen, the Netherlands. She has performed a large body of research in psychosocial dementia and palliative care. She supervised 32 PhDs. She published more than 250 (inter)national peer reviewed articles. She is chair of INTERDEM, a pan-European research network on detection and timely INTERvention in DEMentia. She is a member of the Scientific Advisory Board of the European Joint Programme Neurodegenerative Diseases (JPND).Professor Vernooij-Dassen is visiting professor at the Gadjah Mada University in Yogyakarta, Indonesia and honorary visiting professor of the School of Health of Bradford University.
She received the Dutch royal honor to be officer in the order of Orange-Nassau and the IPA 2016 distinguished service to field psychogeriatrics award
About the Webinar: Within the dominantly biomedical dementia research the place of social health and its integration within dementia research is underexplored. How can social health contribute to a better life with dementia? Social health reflects the influence of social interactions on people's capacities. Social health might contribute to brain reserve and be crucial in optimally using the plasticity of the brain. This can be done by through active facilitation and utilization of social resources individuals possess. Evidence is accumulating for the impact of social health, in terms of social support, functioning and participation, on the occurrence and progression of cognitive impairment and dementia. On the other hand there is emerging evidence indicating that excluding people with dementia exacerbates the sense of 'being an outcast'. This might affect their feelings of loss and diminishing identity. Social health is dynamic and can be improved by considering both the negative and positive influences social interactions might have. This represents a huge potential to contribute to living well with dementia.
---
Wednesday, March 28, 2018 - times (USA/UK/EU/CA):
1:30 pm San Francisco USA
3:30 pm Des Moines/Chicago USA
4:30 pm New York USA
10:30 am Honolulu
4:30 pm Toronto CA
1:30 pm Vancouver CA
9:30 pm London/Glasgow UK
10:30 pm Paris, Munich, Amsterdam, EU
We apologise for the late time in the EU, UK and Scotland which are due to daylght savings in some countries
Thursday, March 29, 2018 - times (AU/NZ/JP/IND/TWN):
6:30 Brisbane
7:00 am Adelaide
7:30 am Sydney/Melbourne/Canberra
4:40 am Perth/Taipei
9:30 am Auckland, NZ
The webinar runs for up to 1.5 hours.
Check your time using this link...

---
COST TO ATTEND:
FREE for DAI members and their care partners
$25 USD for all others
DONATIONS (as you can afford)
$50 The cost of this ticket will be used exclusively to support people with dementia to attend ADI CHICAGO 2018
THE SMALL FEE FOR SOME ATTENDEES OF THIS EVENT, THE ATTEND CHICAGO OPTION, AND YOUR DONATIONS ARE APPRECIATED.
DONATIONS ARE OUR ONLY SOURCE OF INCOME.
WITHOUT THEM, DAI COULD NOT PROVIDE THE FREE SERVICES IT PROVIDES CURRENTLY FOR MEMBERS, THEIR FAMILIES & THE GLOBAL COMMUNITY.
$US 5.00 covers the average cost of one of our monthly bank fees
$US 60.00 covers the average of the cost of our monthly Zoom subscription fee
$US 120.00 covers the average monthly cost of the MailChimp subscription
$US 300.00 covers the current cost of 3 months of website management fees
You can either DONATE HERE or as part of registering for the event: https://www.dementiaallianceinternational.org/donate/
If you need a certificate of attendance, please email us at info@infodai.org
Note: the Q&A session at the end of our webinars are never recorded, and therefore will not be available after the event. Some webinars are available on our YouTube channel, but not all depending on each presenter, or the quality of the recording.