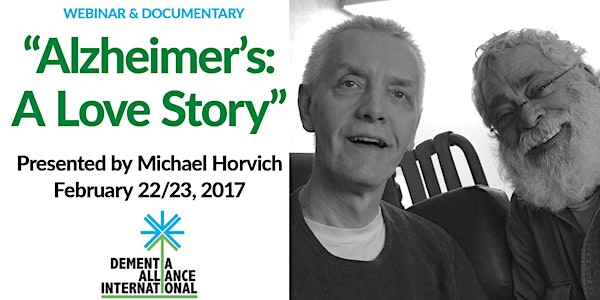 DAI Webinar and Documentary viewing: "Alzheimer's: A Love Story" (Feb22/23,...
Description
DAI's "A Meeting of The Minds" Documentary and Webinar Discussion with Michael Horvich
Documentary: "Alzheimer's: A love story"
February 22, 2017 - 3.30 PM (EST) New York USA

February 23, 2017 - 7.30 AM Sydney (AEDT) Australia
---
Please note: This event is set in a number of time zones, and has been set up using Adelaide, AU - but it is one event for everyone, Wednesday, February 22, 2017 (USA/UK/EU) and Thursday, February 23, 2017 (AU/NZ).
---
About the documentry Alzheimer's: A love story: A moving short documentary on the power of love through all obstacles, this love story beautifully captures one couple's intimate struggle with a disease that indiscriminately impacts millions of people. Those diagnosed are often told they will live an average of eight years after their symptoms first become noticeable. It has been eleven years for Greg, who now lives in a memory care facility in Chicago. Every day, his husband Michael, a kind, earnest and resilient man who looks like Santa Claus and approaches the disease with the practicality of a retired educator (which he is), visits the love of his life and fights to preserve the memory of their 40 years together.
Alzheimer's: A Love Story has screened at over 60 film festivals internationally and won over 30 awards, both audience and juried, including both the Best Short Film and Best LGBT Film at the Cannes American Pavilion Emerging Filmmakers Showcase.
Michael will introduce this moving documentary, and will be available for question time afterwards.
About Michael: Michael is a retired educator, administrator, and college instructor. He currently is an educator, writer, poet, book binder, photographer, artist, collector, museum curator emeritus, and actor. He won two Fellowships in Gifted Education from the State of Illinois, a Performing Arts Grant from the City of Chicago, and a two week Competitive Application Residency in creative non- fiction writing at The Ragdale Foundation in Lake Forest, Illinois.
Michael has been published in a number of educational journals and has self-published two poetry books: Sit With Me A While, Sit With Me A While Longer; and The Story of Michael's Museum, all are available at: www.lulu.com, www.amazon.com, & www.barnesandnobel.com
Michael's Museum: A Curious Collection of Tiny Treasures, a folk art collection of over 105 collections of Tiny Treasures was installed as a permanent exhibit at The Chicago Children's Museum on Navy Pier in May 2011. He has appeared on stage as a Supernumerary, an acting extra, at the Lyric Opera of Chicago in over twenty operas.
He and his life partner Gregory Maire, are the subject of ALZHEIMER'S: A Love Story, which has been accepted by 45+ film festivals around the U.S. and World and has won 19+ awards. He is currently working on his memoirs: GYROSCOPE: An Alzheimer's Love Story and a musical: ALZHEIMER'S: The Musical. He lives in Evanston with his cats Emma and Gigi. His life partner of 40+ years, Gregory left this life in October 2015.
Wednesday February 22, 2017, USA/CA/EU/UK
Start Time (USA/CA/UK/EU):
12.30 p.m. Pacific Time (San Francisco);
1.30 p.m. Mountain Time (Denver);
2.30 pm Central Time (Chicago)
3.30 p.m. Eastern Time (Washington DC, New York);
12.30 p.m. Vancouver, Canada;
10.30 a.m. in Honolulu, Hawaii
8.30 p.m. in the UK;
9.30 p.m. in Amsterdam, Paris and Budapest
Thursday February 23, 2017, 2017 AU/NZ/JPN
Start time (Australia/NZ/Japan/Indonesia)
7.00 a.m. in Adelaide;
6.30 a.m. in Brisbane;
7.30 a.m. Sydney, Canberra, Melbourne;
4.30 a.m. in Perth;
9.30 a.m. in Auckland, New Zealand;
5.30 a.m. in Tokyo, Japan
The WEBINAR will run for approximately 1 hour

Open the link for detailed times and how to calculate the time where you live, if not listed above: https://www.timeanddate.com/worldclock/fixedtime.html?p1=5&iso=20170223T07&msg=DAI%20Webinar%20%22Alzheimer%27s%3a%20A%20Love%20Story%22&ah=1&low=5

You will receive an email confirmation that contains login details and instructions on how to join the online Webinar.
COST TO ATTEND:
Attending our events supports everyone connected to dementia, whether the person diagnosed, our care partners, or the professionals and research community who work to support us and improve our lives.
DAI MEMBER: FREE
UNEMPLOYED CARER: FREE
EMPLOYED OR SELF EMPLOYED PERSON REDUCED FEE: $US20
UNEMPLOYED STUDENTS: FREE (please send proof of your student ID to info@infodai.org)
DAI has to rely on an HONOUR registration system.
If you are employed or SELF employed, please do not register as an unemployed family supporter (carer) or a member of DAI.
The VERY modest fee for this service supports your education, and also supports our work, which most importantly, directly enables people with dementia to live with a higher quality of life.
If you need a certificate of attendance, please email us at info@infodai.org
Your donations are always appreciated and do make a difference:
$US 5.00 covers the average cost of one of our monthly bank fees

$US 60.00 covers the average of the cost of our monthly Zoom subscription fee

$US 120.00 covers the average monthly cost of the MailChimp subscription

$US 300.00 covers the current cost of 3 months of website management fees
Option: Our event ticketer, Eventbrite, charges us a transaction fee to cover fees and other processing costs, to securely process your donation. Please consider adding an additional small amount to your donation so 100% of your donation amount goes to Dementia Alliance International.