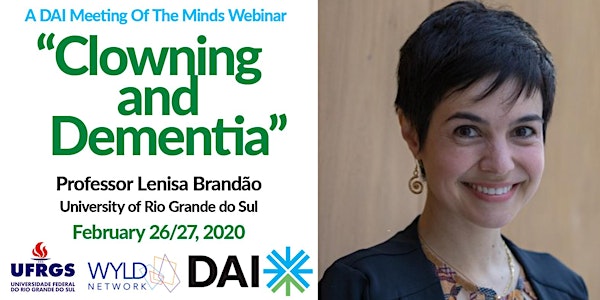 DAI "Meeting Of The Minds" Webinar: Clowning and Dementia, February 26/27, 2020
Description
DAI's "Meeting Of The Minds" Webinar, February 26/27, 2020


Title:

Clowning as a medium of promoting the communication and wellbeing of adults living with cognitive impairments



Presenter: Professor

Lenisa Brandão



---
DAY/DATE(S):
Wednesday, February 26, 2020 (USA/CA/UK/EU)

Thursday, February 27, 2020 (AU/NZ/JP/SGP/TWN)
Please note: this is one event, set in a number of different time zones.
---
About the Webinar:
In this session, Professor Brandão will talk about her journey as a Speech-Language Therapist in becoming a clown facilitator for promoting communication and wellbeing. She will tell the story of the clowning group of older adults living with aphasia with whom she works with in Brazil. Professor Brandão's presentation will also explain the value of nonverbal communication. Additionally, she will outline the key elements that made her choose active clowning as a medium to promote the experience and expression of communicative empowerment. Finally, Lenisa will provide an overview of her professional plans in working with clowning and older adults who live with aphasia and/or dementia.
About Professor Lenisa Brandão: Speech Language Therapist, Doctor in Psychology, Posdoc in Cognitive Science and Psycholinguistics. Senior Atlantic Fellow at the Global Brain Health Institute. Her thesis was about how people living with Alzheimer's disease (AD) tell personal stories and how that relates with their cognitive abilities. Lenisa's posdoc study was about how visual and verbal prompts can help people with AD maintain topic and express more ideas in conversations. Her recent work concentrates in the use of theatre and clowning as a medium of expression for people who survive stroke and live with aphasia.
Lenisa's personal experience: her father lives with normal pressure hydrocephalia and her grandmother (a great story teller) had aphasia in the last years of her life.
---


Wednesday,

February 26, 2020

(USA/CA/UK/EU):

10:00 am Honolulu
12:00 pm Pacific
1:00 pm Mountain
2:00 pm Central
3:000 pm Eastern
5:00 pm Porto Alegre

,

Brazil

8:00 pm London/Glasgow/Dublin UK
9:30 pm Paris, Munich, Amsterdam, EU
Thursday,

February 27, 2020

(AU/NZ/JP/SGP/TWN/CHN):
6:00 am Brisbane, AU
6:30 am Adelaide AU
7:00 am Sydney/Melbourne/Canberra/Tasmania AU
4:00 am Perth AU/Taipei//Beijing
9:00 am Auckland, NZ


The Webinar runs for 1.5 hours.
Check your time if not listed above with this link.


---
COST TO ATTEND:
DAI Members/Care partners: FREE

Support people with dementia to attend ADI2020: $50.00 USD

Employed persons: DONATIONS APPRECIATED


---
PLEASE CONSIDER DONATING TO DAI OR BECOMING AN ASSOCIATE OR PARTNER.
WITHOUT YOUR DONATIONS, DAI COULD NOT PROVIDE THE SERVICES WE PROVIDE CURRENTLY FOR MEMBERS, THEIR FAMILIES & THE GLOBAL COMMUNITY.
$US 5.00 covers the average cost of one of our monthly bank fees

$US 60.00 covers the average of the cost of our monthly Zoom subscription fee

$US 120.00 covers the average monthly cost of the MailChimp subscription

$US 300.00 covers the current cost of 3 months of website management fees
THANK YOU