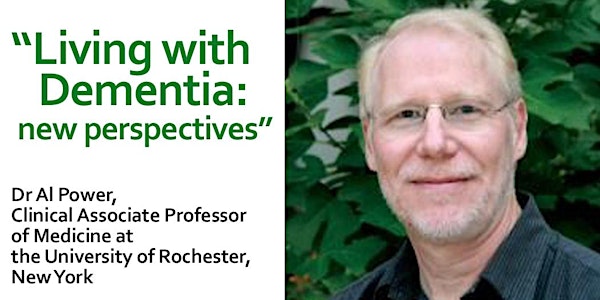 DAI A Meeting of The Minds Webinar: "Living with Dementia: new perspectives" with Dr Al Power
Description
DAI A Meeting of The Minds Webinar:
"Living with Dementia: new perspectives"
Wednesday, January 27, 2016 (USA/UK/CA/EU) / Thursday, January 28, 2016 (AU/NZ/JP)
Guest speaker: Dr Al Power
In last June's DAI webinar, Al Power, MD discussed the drawbacks of our biomedical model of dementia and the advantages of an experiential view that focuses on enhancing several aspects of well-being. In this follow-up session, Al will introduce a few select topics, and then leave much of the webinar time for open discussion and questions.
About Al's session:
Topics that Al will discuss at the beginning will include:
More information/opinions about drug use and misuse

A challenge to the "BPSD" concept

Challenges of the segregation of people living with dementia in aged care

People with younger onset dementia in aged care

Loneliness, self management and other well being issues

Some results from his seminars and possible future projects
Please do join us in the New Year for this stimulating and provocative discussion!
Al will also answer questions, and it would be very helpful if you are able to email them to us in advance at info@infodai.org .
You will find his presentation and the discussions that will follow enlightening, and we feel sure, if you work in aged and dementia care, culture changing.
We do record the presentation but the discussion following the presentations to A Meeting of the Minds are not recorded, to preserve the privacy of those attending.
Therefore the only way to experience this portion of A Meeting of the Minds is to register and attend.
The Zoom platform we use now has the onion to only show the speaker and power point slides when we record, so your privacy is also protected during the presentation.
About Dr Power: Dr Allen Power is an internist, geriatrician, and clinical associate professor of medicine at the University of Rochester, New York, and is an international educator on transformational models of elder care, particularly for those with changing cognitive abilities. Dr. Power is the author of two books, Dementia Beyond Drugs, and the newly released Dementia Beyond Disease. He has served as an advisor and educator for the US government for their antipsychotic reduction initiative. Dr. Power is also a board member and educator for The Eden Alternative, the world's largest culture change movement for elder care.
DATE: Wednesday, January 27, 2016 (USA/UK/CA), and Thursday, January 28, 2016 (Australia/NZ/Japan/Indonesia)
Time: January 27, 2016 3:00 PM (GMT- 6:00) Central Time (US and Canada), January 28, 2016 (AEST-7:00)
Start Time (USA/CA/UK/EU):
1.00 p.m. Pacific Time (San Francisco);

2.00 p.m. Mountain Time;

3.00 pm Central Time (Chicago)

4.00 p.m. Eastern Time (Washington DC);

1.00 p.m. Vancouver, Canada;

11.00 a.m. in Honolulu, Hawaii;

9.00 p.m. in the UK;

10.00 p.m. in Paris and Budapest.
Start time (Australia/NZ/Japan/Indonesia):
6.30 a.m. in Brisbane;

8.00 a.m. Sydney, Canberra, Melbourne;

5.00 a.m. in Perth;

7.30 a.m. in Adelaide;

10.00 a.m. in Auckland, New Zealand;

4.00 a.m. in Indonesia;

6.00 a.m. in Tokyo, Japan
The WEBINAR will run for 1.5 hours. To find out the start time in your city, http://www.timeanddate.com/worldclock/fixedtime.html?p1=64&iso=20160127T15&msg=DAI%20A%20Meeting%20of%20the%20Minds%20with%20Dr%20Al%20Power&ah=1&am=30&low=4
You will receive an email confirmation that contains instructions on how to join the online Webinar.
Note:
Attending our events supports everyone connected to dementia, whether the person diagnosed, our care partners, or the professionals and research community who work to support us and improve our lives.
We have needed to start to charge a fee for those who are working in the sector. You will be able to claim the cost of the tickets as a tax deduction. The fee for this service supports your education, and also supports our work, which directly supports people with dementia. If you need a certificate of attendance, please email us at info@infodai.org
People with dementia, and their care partners, are usually no longer in paid employment, and therefore tickets remain free.
Our registration procecss is based on an HONOUR system. Please, if you are in paid employment, it is your responsibility to register as a professsional.
Your donations do make a difference:
$US 5.00 covers the cost of some of our monthly bank fees
$US 50.00 covers the cost of our monthly Zoom subscription fee
$US 100.00 covers the monthly cost of the MailChimp subscription
$US 300.00 covers the cost of 3 months of website management fees
Option:
Our nonprofit partner, PayPal charges us a transaction fee to cover fees and other processing costs, to securely process your donation.
Please consider adding an additional small amount to your donation so 100% of your donation amount goes to Dementia Alliance International.
Thank you.